Best Practices for Using 10-Digit Message Originators
- Co-authored by OpenMarket and ZipWhip
The increasing adoption of mobile devices is driving a fundamental change in employee and consumer attitudes and expectations. Analyst firm Forrester Research has dubbed this change "the mobile mind shift." It's the "expectation that I can get what I want, anytime, in my immediate context."
This mobile mind shift is redefining the nature of business communication and customer relationships. Ninety percent of adult Americans own a cell phone, and 81% of them send and receive text messages. Moreover, mobile messaging is the preferred communication choice for the crucial, smartphone generation—the millennials. They now represent 25% of the US population, outnumbering baby boomers. These digital natives are turning increasingly to messaging—online, in-app and texting—for any situation where two-way communication is required, not just simple Person-to-Person (P2P) chat with friends and family. More importantly, 77% of millennial consumers are likely to have a positive perception of companies that offer texting.
What does this mean for businesses? Savvy companies need to take note and reconsider how they engage their people. A "mobile first" approach that leverages mobile messaging (texting) is essential to foster immediate and relevant two-way communication with customers, employees, partners, and suppliers.
As enterprises consider their company-wide mobile messaging strategy, they need to evaluate the various options for originating messages and determine which is best suited for each business function—customer service, human resources, IT, operations, and sales and marketing.
What does this mean for SMS aggregators, carriers and the mobile messaging industry players? It's critical that we establish best practices for guiding businesses when using 10-digit message originators (especially text-enabled phone numbers) for Enterprise-to-Person (E2P) messaging.
Using real-life business use cases, OpenMarket and Zipwhip are advocating a framework for industry best practices for all message originators in North America. Given the rapidly changing landscape in terms of the capabilities and limitations of each message originator type—short codes, long codes, and text-enabled toll-free and landline numbers—there is a growing need to provide clear direction to businesses. In particular, this paper focuses on some specific best practices regarding E2P messaging using 10-digit message originators.
Message originator options
Businesses want to use the appropriate message originator for their use case and business needs. Today, each of the four message originator options has different characteristics that make them suitable for different types of business use cases.
Short codes
A short code is a five- to six-digit number to which a Short Message Service (SMS) and Multimedia Messaging Service (MMS) can be sent. Business-to-Consumer (B2C), short-code texting developed as a way to attract new customers and send marketing messages. Text messages sent from a business to a consumer are known as mobile-terminated (MT) messages; those received by a business from consumers are called mobile-originated (MO) messages. Unlike 10-digit telephone numbers, short codes do not provide support for voice communication. Another industry term for them is "common short code" or CSC. "Common" refers to the fact that all major wireless carriers recognize and accept the short code.
How they work
Short codes are used send MT messages and frequently are used in conjunction with a keyword to route and/or respond to MO messages. Each short code can have multiple keywords associated with it. Any message starting with one of those keywords that's sent to the short code is directed to the business use case associated with it.
When to use a short code
With the ability to accept tens of thousands of MO messages and send more than 1,000 MT messages per second (MPS), short codes are well suited for high-volume, E2P marketing use cases like promotions, sales offers, and coupons. Short codes are an effective way to establish a two-way dialogue that enables consumers to initiate and control their interaction with a brand. Short code marketing campaigns have higher response rates and better return on investment than traditional media forms. Further, by adding mobile messaging to the marketing mix, businesses can boost the staying power of other channels like print, online, and TV by making them more innovative, relevant and actionable.
Of the four types of message originators, short codes have the longest history when it comes to running Application-To-Person (A2P) traffic. They fully support high throughput and delivery receipts from wireless operators—features that enable the business to know that a handset received an SMS from them quickly. Like vehicle license plates, short codes can be randomly selected (e.g., 26932) or hand-picked and dedicated to a single business (e.g., Amazon). Most large brands opt for a dedicated SMS short code.
Securing a short code: the logistics
Provisioning a short code can be a somewhat cumbersome and lengthy process from a company's perspective. Each wireless carrier must enable the short code on its own network. Additionally, each carrier has its own processes and rules for the acceptable usage of short codes. Historically, short codes were supplied to enable marketing use cases with standard rate messaging where consumers texted businesses in the attempt to advertise or market to them. To ensure a smooth user experience and prevent abuse, mobile carriers, through the Common Short Code Administration (CSCA), have developed a framework of rules and best practices. Unfortunately, these practices haven't evolved fast enough to meet the needs of businesses; however, the rules reflect the newer uses of short code texting such as two-factor authentication (2FA), customer service reminders, and workforce scheduling.
As part of the short code campaign provisioning process, companies must submit a program brief that must be reviewed and approved by each major carrier. This is a time-consuming process in the minds of many businesses: it's not unusual for it to require four to eight weeks for carrier approval. A portion of the short code leasing payments must be paid upfront at the time of program submission, so billing for the short code actually starts at when the application is submitted. Additionally, once the campaign is live, it's monitored by the each carrier's audit firm. If the campaign violates any regulations, it can be shut down immediately which creates uncertainty for businesses.
User permission required
Short-code messaging is done strictly on an opt-in basis by the person receiving the message. The user must grant permission before a business can send any text message through a short code. The most common method to do this is for a business to advertise its keyword and short code. When the user texts the keyword to the short code, he or she is granting their permission (opting in) to the business. Users can also opt in through a website, a verbal agreement, or a mobile application without using a mobile handset.
Long codes
SMS long codes are standard North American Number Plan Administration (NANPA) 10-digit phone numbers (e.g., 206.555.1212) that are used to send and receive text messages and handle voice calls. More than 81% percent of customers in the US and Canada currently use their mobile phones to send and receive text messages via long codes for Person-to-Person (P2P) messaging.
How they work
Unlike short codes, handset delivery receipts are not available. The inter-carrier SMS system assumes that long code traffic is bi-directional with businesses sending and receiving messages. It treats that traffic with the same throughput profile as a P2P conversation. Long code delivery throughput is limited to one message per second and no more than 200 messages per day per originating phone number. Carriers can block a long-code phone number that doesn't adhere to a traffic pattern of receiving one MO for every three MTs sent. Further, carriers look for messaging patterns where businesses are sending a large number of MTs and shutdown those long codes since the behavior looks like potential consumer spamming. Thus, this traffic profile and throughput levels do not align with many business use cases.
When to use long codes
Due to throughput restrictions, long codes are no match for high-volume E2P traffic. They are best used in low-volume P2P communication, originating inside mobile applications. Many businesses use long codes in their mobile apps where they need both voice and texting capabilities with another person.
Long codes are an effective originator for Internet of Things (IOT) solutions where an IOT device or platform notifies a person, and the person responds with a command (e.g., remote home monitoring). Furthermore, low-volume employee and customer service notifications are ideal long code use cases. For example, a recruiter wants to send a text message reminder for an interview appointment and receive a confirmation.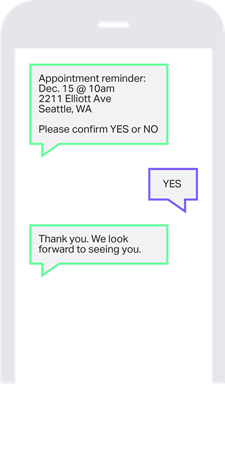 Easy start-up
For many small and medium businesses, long codes represent an inexpensive and simple way to deploy mobile messaging solutions. With a monthly originator cost of just a dollar per month, they are much more affordable than short codes. Provisioning usually takes as little as a week so that campaigns can be launched quickly. Moreover, unlike short codes, there is no customer opt-in process required for long code messaging.
Text-enabled, toll-free numbers
While still in the early adoption phase, text-enabled toll-free numbers represent the newest E2P messaging frontier with 10-digit message originators. Used as messaging originators, these phone numbers allow enterprises to send and receive texts from their existing toll-free numbers. As soon as a number is text-enabled, employees and consumers can start a conversation by simply sending a message. According to Ann Burr, President, New Product Trials and Integration at Frontier, "Adding text messaging to a voice-only line helps businesses handle orders, remind customers of appointments, and answer customer inquiries through a medium that is both familiar to and popular with their customers. It's a competitive advantage for businesses that maximize the technology they already have in place, combining the reliability of a landline, and the 'reach me anywhere' nature of a mobile device."
For a list of mobile operators that support text-enabled toll-free numbers, see Mobile Operator IDs.
Why use text-enabled, toll-free numbers
Texting is the preferred business communication channel for customers today.
64% of consumers prefer texting over voice as a customer service channel
44% would rather press a button to initiate a text conversation than wait on hold to speak with an agent
With an MT throughput equivalent to that of short codes, using text-enabled, toll-free message originators is a viable alternative to short codes for non-marketing uses cases like customer service notifications and interactions. Using text-enabled toll-free numbers can become a practical alternative to using the customer service interactive voice response (IVR) of many businesses. All of the major carriers in North America now technically support high throughput, and delivery receipts are available from the U.S. carriers with text-enabled, toll-free numbers. In contrast to short codes, provisioning time is short, usually less than a week. Additionally, text-enabled toll-free numbers provide greater communication flexibility; customers can't call a short code. Lastly, text-enabled, toll-free numbers can deliver MT messages to Mobile Virtual Network Operators (MVNOs) that are not reachable via short codes.
Giving customers a choice
A lack of respect for mobile customer preferences doesn't foster a great customer experience. It's clear that customers want control over the way they communicate with businesses, dictating when, where and how they interact. Eighty-one percent of consumers are frustrated being tied to a phone or computer to wait for customer service help. Gartner predicts that "by 2020, customers will manage 85% of their relationship with enterprises without interacting with a human."
By providing a texting option on their customer service phone number, businesses let their customers choose how they'd like to engage the company. "Call or text us at 1-800-YOURNUMBER" is a call-to-action that provides customers with the flexibility to decide how to engage. If the consumer prefers not going through an IVR and waiting in a phone queue, he or she can simply communicate by text. Compared to IVR, using text-enabled, toll-free numbers is a convenient and affordable, self-service, call-center solution. Originating texts with a toll-free number eliminates the guess work for customers; there's no searching for a number to return a call or text.
Customer protection
Consumer express consent or opt-in is needed if a business wants to use a text-enabled, toll free number to send messages to their customers. Businesses should also make a STOP keyword available to protect consumers from receiving unwanted text messages.
Text-enabled landlines
Text messaging has the potential to breathe new life into landlines, modernizing a medium that hasn't seen a new feature since caller ID. While still in its infancy, the capability opens a new communication channel for engaging customers and employees.
For a list of the mobile operators that support text-enabled landlines, see Mobile Operator IDs.
Like text-enabled, toll-free lines, they're easy to set up and cost effective. The origination fee is inexpensive, and there are no additional carrier messaging fees. Provisioning is quick; it takes less than a week to have a messaging campaign up and running. Like long codes, message throughput is a consideration. Text-enabled landlines are limited to throughput rates of one message per second, so they're best used for P2P use cases. With this form of message origination, there's no guaranteed delivery as text-enabled landlines do not provide MT message delivery receipts.
Proposed E2P best practices
Based on the desire of OpenMarket and Zipwhip to grow the adoption of 10-digit message originators by enterprises, small and midsized companies while avoiding spammers, we've identified the following four key guiding practices that we believe the mobile messaging industry should adopt for 10-digit message originators.
1. Preventing spam and shutting down spammers quickly shall be a shared enterprise and industry responsibility.
Mobile carriers, SMS aggregators, SMS service providers and their business clients all have a role to play in ensuring that spamming is avoided. Preventing spammers from gaining easy access to 10-digit message originators should be an initial goal to preserve the legitimacy of 10-digit message originator traffic (especially for text-enabled phone numbers) today.
When spamming is detected though, all mobile industry participants need to quickly identify the source of the problem and address the offender. This is a responsibility for everyone in the mobile messaging ecosystem rather than one participant pointing to someone else's problem. Complying with current anti-spam laws is insufficient. Industry best practices for 10-digit message originators must be established and followed by all industry participants.
2. The ownership of all 10-digit numbers shall be vetted.
Documenting the owner of the message originator should help ensure that messaging traffic is compliant with best practices and allow for quick identification of the party responsible to take necessary corrective action. When a 10-digit phone number is requested to be text-enabled, the business claiming ownership of that phone number shall be vetted to confirm actual ownership of the phone number before it is text enabled.
3. 10-digit message originators for E2P messaging should reach all North American mobile subscribers.
Businesses need to be able to send and receive text messages regardless of what carrier the person or IOT device is using the 10-digit message originator. Ten-digit message originators reach list needs to include reaching subscribers or IOT devices on MVNOs. The reach for 10-digit message originators needs to be the same for a business's E2P messaging as it is for P2P messaging since companies will frequently have live agents or employees who respond to their customers using 10-digit message originators. Businesses who are adding two-factor authentication (2FA) to their websites, sending appointment reminders or providing emergency notifications need to reach 100% of their customers—not 90+%. The same cross-carrier international reach applies for business use cases such as credit card fraud alerts when consumers are traveling internationally and can text back to people in their native country.
4. Enterprise businesses can send E2P messages reliably and at high MT throughput levels.
Businesses and mobile messaging service providers need to be able to use 10-digit message originators with SMS aggregators able to reliably and at high MT throughput levels send messages to mobile subscribers in near real time. Reliability implies that businesses should be able to receive delivery receipts from all carriers. They should also have at least the same MT throughput rates as they can get via short code originated messaging from North American mobile carriers. This capability needs to be available for E2P messaging to a business's customers, employees, partners or suppliers. It is important when sending critical communications such as 2FA messages, emergency dispatch, IT service outages, fraud alerts, utility outages, and travel-related notifications.
Conclusion
A mobile mind shift is underway that's transforming the business communication landscape. Enterprises are looking to select the most appropriate 10-digit message originator for their E2P messaging use case. Our interactions with enterprises and SMB companies has convinced OpenMarket and Zipwhip that we need to work with the entire mobile messaging industry to quickly establish best practices for using 10-digit message originators in North America.
This paper offers some guiding best practices to ensure that we meet the needs of consumers, carriers, and businesses. OpenMarket and Zipwhip look forward to sharing our thoughts with industry participants and crafting the official E2P messaging best practices. Our goal is to promote business adoption of a "mobile first" strategy that incorporates messaging as a central component. This approach will enable companies to engage with their audiences, using their preferred communication channel, with immediate, meaningful two-way communication that improves internal and external processes and business outcomes.