Press release – June 1, 2016
By Hazel Davis, The Guardian
With 59% of consumers saying they would avoid a retailer that offered a poor delivery service, small businesses are trying out innovative and personalised options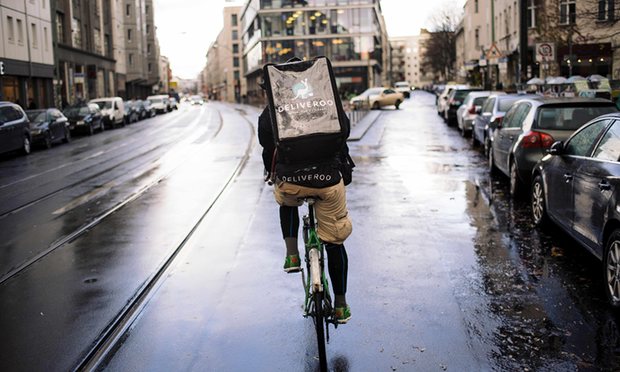 Deliveroo is among a number of courier services offering greater convenience to consumers. Photograph: Alamy
How many times have you heard the words, "Oh I'd much rather shop elsewhere but it means I can get next-day delivery"?
It's fair to say that Amazon, and other online behemoths, have transformed the e-commerce world in terms of delivery and customer satisfaction. And while we might be a way off (though possibly not that far) having our flat whites delivered by drone, the delivery landscape is changing.
And this has changed the consumer model considerably, with customers prizing convenience above almost everything else. In fact, research from delivery management tech company Metapack in 2014 found that 59% of consumers are less likely or unlikely to order from a retailer ever again if they have a negative delivery experience. People now expect to know when their parcel will arrive. And they'll go elsewhere if they can't get the information. It matters. In recent PwC research, 17% of consumers believed their favourite brand to be innovative when it came to delivery.
Services such as time-slot delivery service On the dot, UberRush (run by Uber but connecting consumers to couriers instead of taxis), Starship (which offers self-driving delivery robots) and Nimber and PiggyBaggy (both of which make use of people already on their way somewhere to transport goods) are helping smaller retailers set themselves apart from competitors by providing a much more convenient service and better delivery options.
Patrick Gallagher, CEO of courier service CitySprint and chief executive of On the dot, says: "The days of telling people when their order is likely to arrive are changing – customers now seek a personalised customer experience, from first browse to the final purchase in hand." On the dot offers a one-hour time-slot delivery service for retailers, allowing the customer to track delivery from store to door, with email notifications along the way.
Gallagher says: "Customers have come to prize convenience above almost everything else in the e-commerce experience. You can book a holiday on your commute, or buy a new wardrobe from your mobile. The brands, products and services that can save people time and make their lives easier are the most likely to succeed."
But this kind of convenience is no longer just for retail giants like Argos or Amazon, who have large and expensive supply chain networks and distribution centres built into their business. Around 70% of On the dot's customers are small businesses.
One of On the dot's first customers was luxury homewares retailer Lords at Home (Lords). Lords started with a single store in Notting Hill and in 2015 decided to expand across the capital. It now has six stores in greater London. As part of its expansion, Lords knew that while it could not always compete with larger competitors on price, its differentiator was good customer experience.
Lords became a retail partner of the On the dot's consumer website and later moved to using a web portal designed for retailers, allowing them to arrange deliveries for customers in store and over the phone. Shaun Bridgeman, head of e-commerce at Lords, says: "We always try to put our customers first and delivery is an integral part of this." He says the service has helped the company to move from telling the customer when they can have a delivery to asking when they would like it. Since using the service, says Bridgeman, the company has seen a 528% increase in delivery sales. He adds: "We have even been able to implement new sales campaigns, such as bulk orders with a staggered, specified hour delivery on our customers' terms. Now customers can shop freely without having to worry about how they will get purchases home.''
Deliveroo is an on-demand delivery service for quality restaurant food. It has recently launched RooBox, an off-site delivery kitchen initiative, bringing popular restaurants to areas with low restaurant density.
Will Shu, Deliveroo co-founder and CEO, says: "Traditionally, expanding a restaurant business comes at significant risk, and substantial cost to small businesses. Owners would need to make large commitments to a new site and its development. RooBox frees small business owners from this, enabling them to test locations through a delivery-only offering while simultaneously growing their customer base, revenue and brand in new areas."
Valgard Sorensen, owner of Tommi's Burger Joint, which uses the service, says: "It offers our business a fantastic opportunity to promote itself in areas beyond our normal reach. It's enabled us to test a local market and make informed business decisions."
However James Newman, marketing director at Red's True Barbecue, another Deliveroo customer, says while these types of delivery services fit a consumer need, "they come at a price for businesses jumping in. As the market grows and more competitors enter, that can only be a good thing for both restaurants and consumers."
Providing specific delivery windows is a vital element of the EatFirst service, which allows customers to choose a specific 30-minute time slot for delivery of chef-made meals in London. To do this the business developed an algorithm to work out the quickest routes for their drivers. This takes into consideration current traffic and weather forecasts. EatFirst's 50 delivery drivers are employed directly by them.
Founder Rahul Parekh says: "This gives us full control over the delivery chain and ensures we provide a reliable service." The company currently delivers for lunch and dinner, seven days a week, covering practically all neighbourhoods in Zones 1, 2 and 3 in London.
"With every improvement to our delivery options we have seen the number of orders we receive increase, and our new weekend and brunch service is expected to grow the business 25% in only three months."
David Senior, sector director, retail, EMEA (Europe, the Middle East and Africa) at retail engagement specialists OpenMarket, says: "Being able to complete a purchase online anytime is not enough for an optimum customer experience. From the moment the customer places an order and until that order is delivered to their door, timely, relevant and personalised two-way communications are expected."
Senior adds: "Consumers may expect a brand to update them on delivery times, give them the option to leave the parcel with a neighbour, or offer the ability to reschedule a delivery for a different day. Businesses need to have the right communications mix in place that includes phone calls, email, SMS, apps and social media to ensure they engage with consumers on the right channels."