Press release – February 1, 2016
By David Lione, Senior Enterprise Account Director, OpenMarket for PostalVision 2020/6.0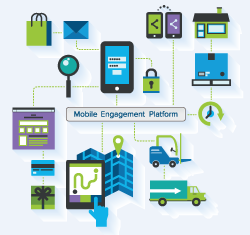 When we look at B2Me (and we will be talking about this more at the upcoming PostalVision 2020/6.0 event in March), it's all about how consumers are making greater demands for control and communication during every step of their buying journey – from the front end retail/online interaction, all the way through to the delivery of their purchases. One of the key components to enhancing that experience is engaging with the customer in ways that are easy and preferred. Enter text messaging or SMS — one of the best communication channels for interacting with customers to enhance the buying experience.
According to a recent report by Mobile Marketing Watch, text messages have a 98% open rate versus email at only 20%. Studies also show that 90% of texts are read within three minutes, which means that SMS is the most effective way to interact with your customers and provide them with timely information. In fact, a Harris Poll reveals that 77% of the millennial generation reacts more positively to companies that offer texting options.
OpenMarket works with some of the largest brands and retailers in the world. These businesses have generated a record number of message volumes, which indicates that consumers are increasingly requesting text messages for items like order confirmations, shipment alerts, and delivery notifications as part of their shopping experience. The B2Me growing consumer appetite for online shopping has not only increased the competition between retailers, but also today's retailers consider their delivery and fulfilment partners an extension of their brand experience. Using mobile technology to engage at various points in the consumer journey can dramatically improve customer satisfaction levels, drive down operational costs, and enable actionable insight into end-user habits and preferences.
According to a May 2014 IMRG UK Consumer Delivery Survey, 66% of consumers felt that in-transit SMS alerts would enhance the delivery experience. The logistics/shipping market can respond to this demand by notifying the consumer on the product being shipped and its date/time of delivery, remind them the day before the delivery, update them on status, and offer a way for the consumer to easily re-schedule, re-direct the delivery, or confirm the delivery.
Catering to the "Me" in B2Me
As many close to the B2Me phenomenon are aware, one of the key changes arising from a logistics/shipping infrastructure—at times overloaded with increased package volume—is the growing desire from consumers to have more control over when and where their packages are delivered. Consumers are taking charge and demanding more customized delivery experiences, including choosing when and where they want their packages. And the "where" is an ever-expanding list of possibilities, with businesses testing out parcel lockers, smartlock parcel delivery solutions, delivery to your office, delivery to your car, and many more new potential ways for customers to get the convenience in delivery location that they desire.
In response, the supply chain (from the retailer, to the warehouse, to the last mile) needs to monitor and report back on package locations with detail and accuracy. SMS provides a simple and direct solution to navigate the often complex communication between owners of each technology system, in each supply chain entity, as well as to communicate with the consumer.
OpenMarket's "Third Party Logistics: A Best Practices Guide to Mobile Engagement" white paper (available by contacting OpenMarket) lays out many of the ways these businesses are using mobile messaging, along with the benefits of doing so.
SMS Delivers a Better Customer Experience
In addition to the more common SMS customer communications, there are many new use cases being explored in the retail/ecommerce/logistics environments, such as "text-enabling" 800 numbers. This enables consumers to "text or call 1-800-xxx-xxxx" with a question and get a quick automated answer (store hours, location, etc.). Text-enabled 800 SMS can be used for chat interactions similar to what is done on the web. A consumer can also click on an 800-number sent by text to call the business and speak with a live representative. Lastly, it can be used to conduct customer satisfaction surveys, in order to monitor performance and help build trust to strengthen your relationships.
Product returns is another area where mobile messaging can make an impact. Research conducted by Hall & Partners in April 2013 revealed that 43% of shoppers would buy again if a retailer had a visible returns policy, and 81% would not buy from a retailer again if the returns experience was difficult. A retailer who does not invest in streamlining the returns experience will quite simply miss out on business opportunities. A third party logistics provider with the ability to enhance the returns process will double its value proposition to customers and reduce missed deliveries.
By using mobile, the retailer can provide a short SMS code and reference number for returns in the final delivery alert. If the shopper wants to return the product, they can send an SMS to the short code with their unique reference number, which activates a two-way dialogue with the provider. The shopper can then be alerted when the package is to be picked up for return, allowing the customer to confirm the suggested time and date. All of this occurs with no call center interaction, significantly reducing costs across the entire value chain.
SMS is the perfect solution for solving communication challenges and enhancing the buying experience at every stage in the journey. Considering the impact of mobile on every aspect of our lives, it's easy to see that mobile-friendly businesses will ultimately win the hearts of consumers, while others will miss out on valuable opportunities.
Live Demo and Text Survey at PostalVision 2020/6.0
In addition to participating in a panel discussion at the upcoming March 15-16 PostalVision 2020/6.0 event, OpenMarket will present a live demo of its SMS Mobile Engagement Platform to event attendees, as well as run a real-time SMS survey with Starbucks gift cards for the first 50 respondents on day one of the conference!