Press release – October 24, 2017
By Barry Levine, MarTech Today
With the first US transactions using global RCS planned for next month, the train carrying SMS's successor may finally be leaving the station.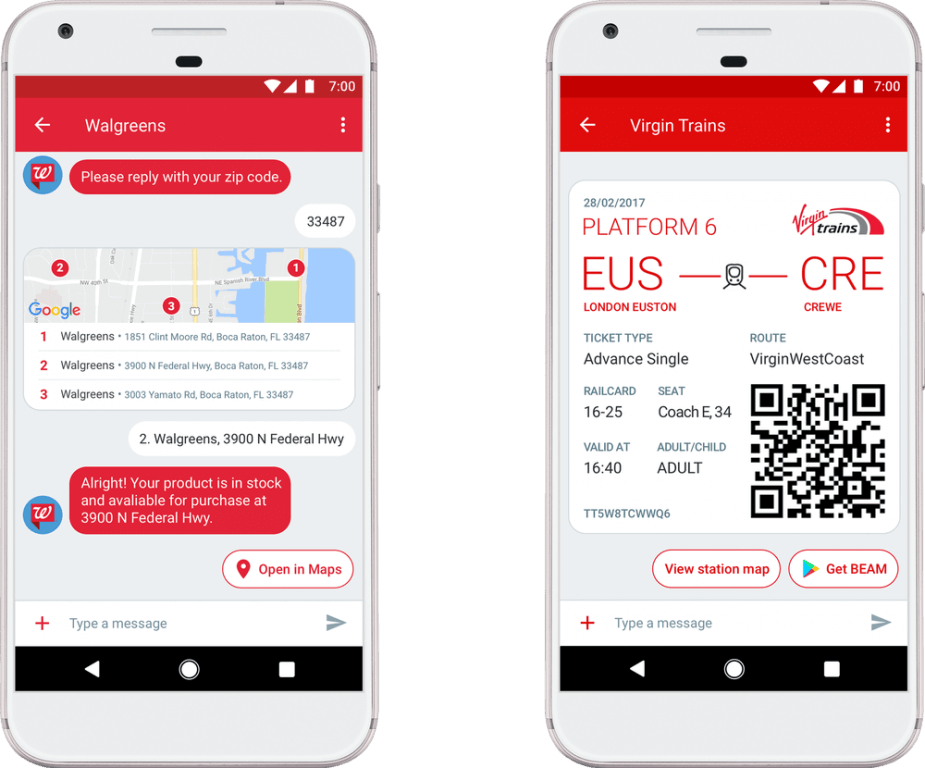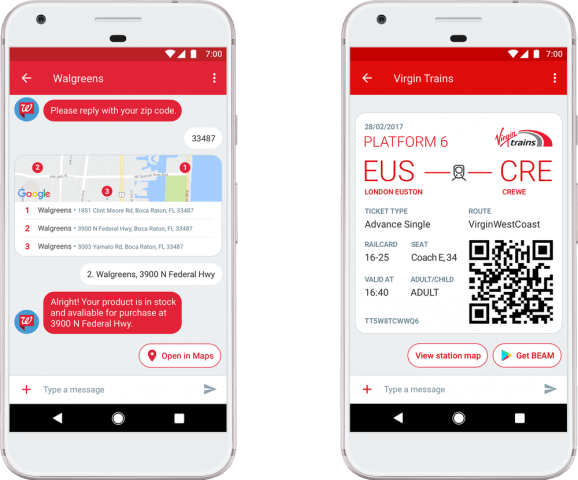 Browser wars are so last century. In a few weeks, we could see the next phase of the Messaging Wars.
That's when Sprint is expected to enable the first US-based transactions over Rich Communications Services (RCS) on Android devices, 3C founder and CEO John Duffy told me. His mobile marketing development firm has been creating RCS projects.
RCS has had a bumpy history and rollout on its quest to become a universal complement to the text-only SMS and the video + image MMS.
The universal vision, laid out in a GSMA-backed Universal Profile, includes file sharing, location sharing, group chats, video calls, "hot buttons" with built-in actions, cards with graphics and QR codes, support for chatbots, transmission over WiFi and more. Here's a visualization from 3C:
Two years ago, Google bought startup Jibe Mobile, which had been working on RCS with support from some carriers. The cloud-based Jibe Hub now acts as a switching station for carriers' traffic, connecting them to a universal RCS backbone that works across the many devices, carriers and implementations of the Android ecosystem.
RCS is the counter-volley by Google, Samsung, carriers and others to the success of Facebook Messenger, WhatsApp, Apple's iMessage and other evolving WiFi-based messaging apps, which are quickly becoming multipurpose platforms.
It's not difficult to see highly functional, multimedia messaging becoming more popular for most mobile actions than mobile sites or apps, just as WeChat has become a dominant rich media communications platform in China.
RCS's pitch is that, as a universal format, it will work for any other Android user with a modern device — without a social sign-in and without the sender having to know if the recipient has the same app.
But the rollout has been less than smooth in achieving that vision. Currently, about 50 carriers worldwide have implemented RCS, such as Vodafone, Deutsche Telekom and SK Telecom, and Samsung, Alcatel, HTC, LG and Lenovo are among the supporting hardware manufacturers. But they have not all supported the Universal Profile and other elements necessary for an interoperable standard.
In the US, for instance, Sprint and T-Mobile have implemented RCS, but only for some of the devices on their networks, while AT&T enabled an older, incompatible RCS standard. RCS with Jibe is currently supported by Sprint, Deutsche Telekom, Orange and several carriers.
Android Messages is the Google-developed app designed to handle RCS as well as SMS and MMS. Apple, buoyed by the popularity of its iOS-only iMessage, is not yet on board with the format, but Duffy thinks they will eventually succumb to a standards-based RCS.
Tim Fujita-Yuhas, director of product management and new product strategy at mobile messaging provider OpenMarket, noted that, as an improved version of MMS, RCS has a lot of potential for growth. For instance, RCS messages can have as many as 1,000 characters, but the road map calls for it to be expanded to 10,000. Files sent by RCS are currently maxed at 20MB, but there are plans to increase that to 100 MB.
He sees the Suggested Replies button as the most important current function, since it adds easy-to-use functionality. By clicking such a button, a user can call up an airline seating chart and change a seat, make a phone call to the brand, show a map or launch a site. And a Read Receipt shows that a message recipient has opened the message, implying it has been read.
Duffy points to several possible use cases that are not now possible in SMS or MMS. Best Buy, for instance, has developed an RCS implementation that allows someone to set up time for installation of a recently purchased TV.
He also noted that two-factor authentication in RCS could become a form of marketing. Currently, you log in online and then receive a second-factor numeric code via SMS, limited by its 160-character ceiling. But a RCS version could allow a full-screen video, interactive response or other branding message along with that code.
Duffy sees RCS as not just an additional format, but possibly as a turning point for mobile communications in the US and other markets.
"It's similar to [right] before the World Wide Web," he told me, when there were several private communication platforms like AOL, Prodigy and CompuServe. A standards-based RCS, he said, could similarly disrupt not only messaging apps, but the entire system of mobile apps.