OpenMarket – July 21, 2016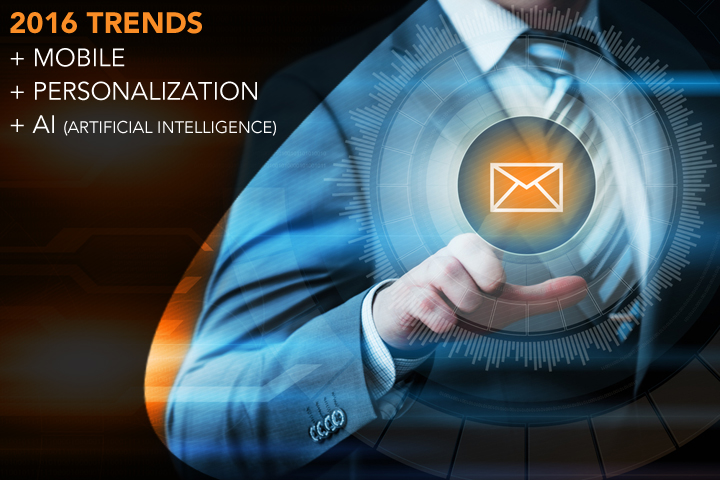 Marketing is one of the most fluid aspects of business. Trends come and go as consumer preferences change and technology advances. In the latter half of 2016 and the years that follow, look for three specific trends to develop: mobile, personalization, and artificial intelligence (AI).
The Rise of Mobile Messaging

One of the clearest trends in all of marketing is the shift from traditional messaging mediums, like email and voice, to increasingly popular mobile messaging options, like SMS and MMS.
While there are many reasons for the popularity of mobile messaging in marketing, one of the strongest explanations can be found in the growth of SMS among millennials. At OpenMarket, we recently conducted a survey on this very issue, and here are some of the findings:

75 percent of millennials choose texting over talking.
76 percent prefer to receive texts from companies because they see them as more convenient and less disruptive.
The most helpful types of texts millennials receive include appointment reminders, product offers and coupons, account activity updates, and order alerts or delivery notifications.

It wasn't always like this, though. "For a long time, it had the reputation of being an inferior form of marketing – ineffective, intrusive, a passing trend or just plain 'ugly,'" says industry expert Kalin Kassabov. "What is happening now, however, is that SMS is transforming into the 'swan' of marketing as people are starting to see its true value."
The primary reason for the enhanced reputation of SMS is that text messages are considered less intrusive than other types of marketing. And in an era where people are bombarded with marketing messages, SMS stands out as being the most "natural" or "organic" approach.
Did you know that 97 percent of Americans text at least once per day? It's nearly impossible to find any marketing medium with that high of a participation rate. These numbers are entirely sustainable and it doesn't appear that any technology is close to surpassing SMS right now.

Increased Demand for Personalization
The second big trend in marketing this year is the increased demand for personalization. This desire for personalization stems from two closely related factors:
Familiarity with technology. Today's consumers – especially younger millennials – have grown up in a world full of incredibly advanced digital technologies. As a result, they've become accustomed to the conveniences that these tools provide. One such convenience is personalization. A failure to appeal to this desire for personalization essentially means you aren't meeting a pain point that they view as mandatory.
Distaste for impersonal digital space. Unfortunately, the pervasive nature of technology also means today's consumers crave genuine interactions. "Most importantly, [consumers] want to feel valued as unique individuals," marketer Caitlin Byrne points out. "They crave personal attention and authentic connections – not broad-brush treatment that makes them feel like just another number."

The primary way marketers are satisfying the demand for personalization is through the use of account-based marketing and well-crafted content that carefully considers who the customer is and what point of the purchase process they're in.
As opposed to traditional marketing, where businesses cast a wide net and hope to bring in a small fraction of the targets, account-based marketing is a proactive approach, where the business actually selects individual targets and pursues them. This pursuit is highly personal and is more about relationship building than anything else.

Speaking of well-crafted content, one of the top forms of personalized content in 2016 is interactive content. This category includes cost calculators, interactive infographics, surveys, assessments, and other related formats. Instead of throwing ideas at the user, interactive content invites them to participate. This is seen as much higher yielding, especially when it comes to account-based marketing.

Rise of the AI Chat Bot
We've entered a time in the mobile marketplace where users are experiencing "app fatigue." Mobile apps, which were part of the technology gold rush from 2007 to 2012, have saturated the market. There are now hundreds of thousands of apps, most of which are clunky and offer very little value.
While smartphone users still spend a lot of time accessing mobile apps, it's becoming clear that they're only accessing a select few apps. Less than 0.01 percent of mobile apps will be considered financially profitable by 2018, as the average user now spends 70 percent of app time on their three most frequently used apps. (These are typically major apps like Facebook, YouTube, and Gmail.)

Marketers aren't unaware of this trend. They've seen it coming for years and are now in the process of shifting their focus away from static mobile apps and towards the future of chatbots.
Chatbots are essentially mini interfaces inside of messaging apps that can be deployed across multiple platforms and use artificial intelligence (AI) to answer user questions and solve complex needs.
"Every brand that you can think of will have to have a bot to engage with their users, to enable them to communicate with them and find them," says Beerud Sheth, CEO of Gushpup, one of the leading bot builder platforms. "It is going to affect every brand and every business."
How soon will bots become the norm? "It is going to happen very quickly," Sheth says. "I expect a bot explosion by the end of this year."
Contact OpenMarket Today
At OpenMarket, we have an advanced understanding of what's happening in the mobile messaging ecosystem and how brands need to respond in order to stay relevant. If you're interested in modernizing your marketing approach to include SMS or mobile messaging, then please don't hesitate to reach out and contact us today. We would love to speak with you about the specific ways our cloud-based mobile messaging solutions can help you rise above the competition and engage customers where they are.
Save
Save