Jonathan Morgan, CEO, OpenMarket – November 3, 2015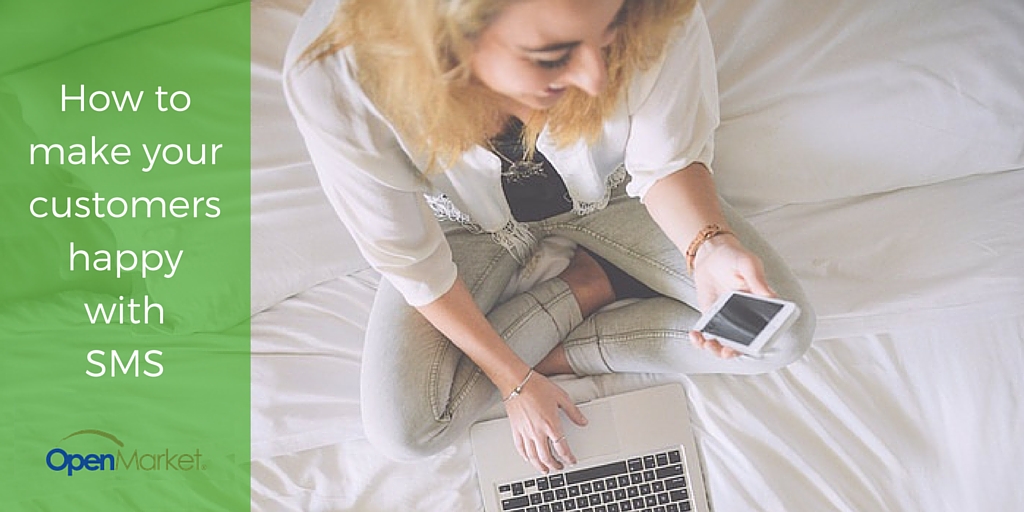 Brands are being forced to live in an increasingly mobile world. Your customers are never far from their mobile phones whether they're on the bus, checking emails between meetings or watching TV at home. They demand a seamless, positive experience across all devices and interactions. Unfortunately, many brands are failing to deliver.
To make sure you're providing the best service to your customers, look at how you can incorporate mobile into every part of your strategy. SMS is uniquely placed to communicate with people in a way that's native to mobile. This means you can deliver an engaging and cohesive experience from their first interaction through to purchase. It's a smarter mobile service.
Here are three ways you can integrate SMS into your strategy and improve the customer journey:
PERSONALISE
When you communicate with your customers via SMS, make the most of this opportunity to treat them as individuals. Where email is a digital letterbox stuffed with bills, news and advertising material, SMS is mostly used to communicate with one person at a time. Your message is more likely to be sitting among texts from close friends, not overdue payment notices and unwanted special offers.
You'll see the best results when you make your messages highly personal and conversational. Compare the following messages:
'Hi Jane, your last hair appointment was over 3 months ago. If you book in the next 2 weeks, you'll get 20% off your treatment. We look forward to seeing you!'
'20% of all treatments if you book in the next two weeks. Call us now.'
The first message is friendly and personalised, and shows useful knowledge of your customer's individual circumstances. This type of message will drive higher engagement. Sending a targeted SMS makes your customers feel valued as individuals, which helps improve their overall perception of your brand. In turn, this will have a significant impact on customer loyalty.
INTEGRATE
Your customers expect to interact with your brand wherever, whenever and however it suits them but they don't want their experience to feel disjointed. SMS connects the dots between store visits, online interactions and contact centre queries. It's ideal for sending short, time-sensitive messages they can access at any time. In fact, 90% of SMS messages are read within 3 mins. SMS can be part of an integrated business strategy that incorporates all customer interactions whether you're sending shipping notifications, special offers or appointment reminders. They'll appreciate how easy it is to deal with your business and this builds brand loyal.
ENGAGE
Customers are shunning interruptive marketing but they're still interested in relevant and engaging offers. If your customers have subscribed to receive SMS messages from your brand, it's a great opportunity to provide targeted offers that don't invade their online experience. You can increase engagement with special deals like competitions, coupons or discounts. People are 10 times more likely to redeem an SMS offer than a printed one because it's more convenient. If you're providing an online coupon code or voucher, sending via SMS allows them to redeem it quickly and easily without having to go back through emails or find their online account. Just keep it relevant to their needs – use any data you have on previous customer behaviour, purchases or interests. Almost two-thirds of mobile marketing subscribers have made a purchase as a result of receiving a highly relevant mobile message.
Your customers no longer think of mobile phones as the 'third screen'. They're now the most important devices in their lives. Despite the increasingly fragmented world of communications, they demand convenient and consistent interaction your brand on their terms. You need to provide a seamless experience. SMS allows you to engage customers on a personal level, greatly improving the customer experience and inspiring loyalty. Download our free workbook to learn more about delivering a Smarter Mobile Service.