OpenMarket – December 4, 2014
When you send a text message in the US, the person receiving the message sees your phone number as the "From" address in the text message. This "From" address is referred to as a "message originator" in the world of texting. Frequently people don't understand the differences between message originator types and what types of originators are well-suited for addressing different business needs and use cases. This post will attempt to clarify the topic of message originators for text messaging in North America.
One specific type of message originator is a 10-digit phone number, which is also called a 'long code' in the world of texting. It is most commonly used when there is interactive (bi-directional) text messaging between two people or a business and their employees or customers. Long code message originators can only transmit at a rate of 1 TPS and don't include message delivery receipts. However, when a business wants to send a text message to its install base of thousands of customers, they frequently use a short code which is a 5-6 digit message originator. Two of the main functional differences between short codes and long codes are: 1) US mobile carriers enable short code message originators to send lots of Texts Per Second (e.g. 30 TPS up to hundreds of TPS), and 2) short code messaging usually provides message delivery receipts. These capabilities are what make short code-based messaging a good fit for emergency notifications and mobile marketing campaigns as example use cases.
A relatively new third kind of message originator is a toll-free phone number or landline phone number that a company advertises on its website. There are over 100 million business landlines and over 50 thousand toll free phone numbers in the US. Businesses are starting to "text enable" these phone numbers so they can send and receive text messages with their customers. In today's mobile marketplace, you can easily imagine that the information next to the toll-free number listed on a company's website will soon say "Call or Text us at 1-800-BUY-HERE aka 1-800-289-4373." As with any new technology evolution, there will be an adoption curve with leading innovators text enabling their phone numbers first, and laggard businesses waiting until their competitors have done so first. Julie Ask, principal analyst for Forrester Research, believes that, in 2015, the gap will increase between leaders and laggards. Leaders will use mobile to transform both their customer experience and their business.
With all of the different kinds of text messaging originators available in the market, some explanation of the differences may be valuable in guiding your selection of the right originator for each use case in your business. How an organization communicates with its employees or prospective employees (think recruiting) is different from how it delivers mobile marketing messages to its existing customers or for acquiring new customers. Similarly, the needs for how businesses communicate with their clients for customer service or business operational use cases also can differ. Below is a summary table of the important message originator differences: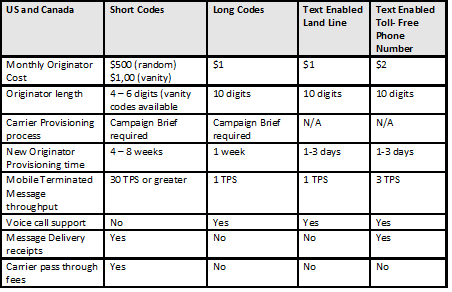 Given the differences outlined above, you can see how a mobile marketing campaign fits well with a high throughput short code-based solution. You can advertise the short code or even get a vanity short code originator (e.g. BUYNOW) that can be displayed on billboards, printed on in-store signs, or used in online advertising campaigns to solicit consumers to opt-in to the marketing campaign.
Using a long code for two-way mobile communications such as an interview appointment reminder between a company recruiter and a job applicant may be a high-touch way to ensure prompt person-to-person communications. A delivery receipt isn't really required, nor is high throughput necessary for this use case. If the interviewee needs to reschedule the appointment or they are having difficulty getting to the appointment due to a traffic accident, they can easily respond with a text message to the recruiter.
Enterprises can leverage their existing toll-free or landline numbers on their websites for improved mobile customer service. For example, by changing their website wording to "text or call the toll free number phone number," companies can provide a new inbound communication channel for customers who don't want to make a voice call and wade through a company's IVR (phone tree) system. According to one business survey, 66% of consumers would rather have a root canal than stay on hold for a support rep. These customers want to use texting for self-service when it's convenient for them, and they can easily switch from texting to a text enabled toll-free phone number to making a voice call using that same number. Mobile provides a new level of convenience for the customer; giving them control over when and how they communicate with an organization. Mobile enables a better overall customer experience which leads to improved loyalty and customer lifetime value.
Lastly, an interesting use case will be the combination of these message originators. For example, you may launch a mobile marketing campaign using a short code with a call-to-action of calling or texting your toll-free number. Consumers could then more easily determine how they want to engage on a text enabled toll-free number: either make the phone call and spend dedicated time on the phone talking to a contact center agent, or use keyword based texting over a period of time to get the information they want when they need it and escalate to a phone call as a last resort. Consider that Millennials tend to text first and talk on the phone only if they have to. In addition, there are now more Millennials than Baby Boomers, and enterprises need to focus on attracting and retaining these customers.
If you want guidance from the industry's most reliable mobile engagement specialist on how you can maximize your investment in your messaging originators, contact OpenMarket.