OpenMarket – August 18, 2016
While SMS is often touted as a valuable marketing tool, did you know that it can also be used to enhance customer service? In fact, brands that currently use SMS find customer service to be one of the most useful applications. Are you taking full advantage of this opportunity to engage and support your customers?
The Growth of SMS as a Customer Service Tool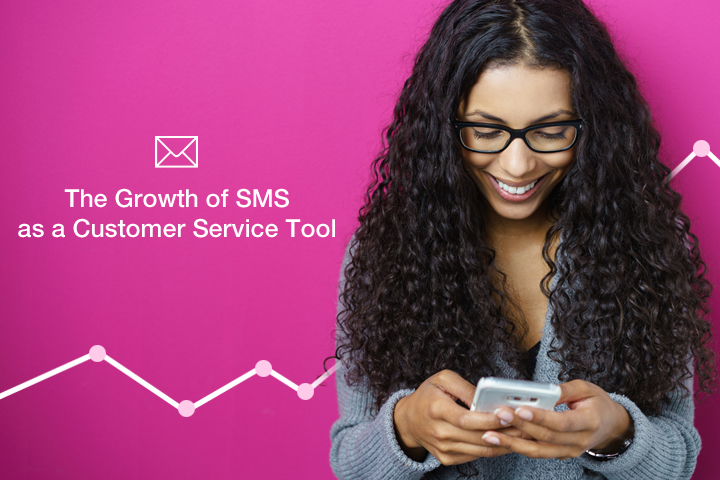 Everyone knows that the popularity of SMS has grown over the years. However, brands that don't use SMS fail to realize just how powerful it is as a customer service tool. Just consider the following statistics from a recent Harris Poll:
44 percent of customers with texting capabilities would much rather press a button to initiate an SMS conversation than wait on hold to speak with a customer service agent.

77 percent of customers that fall into the millennial age bracket (roughly 18-34 years old) have a positive perception of companies that offer text capabilities as part of their customer service strategy.

When it comes to customer service in particular, 64 percent of customers choose SMS over voice if the choice is presented to them.
In other words, SMS is not just a marketing tool. It has tremendous value when viewed through the lens of customer service. If you're still holding back, it's time that you finally begin leveraging this valuable resource.

Five SMS-Friendly Customer Service Tips

It's not just enough to use SMS, though. In order to enjoy all of the benefits that come with this powerful tool, you'll need to heed the following five tips:

Use SMS When Time is of the Essence

The vast majority of text messages are opened within three minutes of being received. This goes to show just how timely this customer service medium can be.
If you run a healthcare practice, auto shop, insurance company, salon, or other service business, sending out appointment reminders via SMS is a great way to reduce no-shows and improve the overall customer experience. While most companies have used phone calls in the past, the reality is that more and more people aren't checking their voice mails. And the ones who do check their voice mails typically don't do so in a timely fashion.

"The concept of voice mail doesn't fit in today's culture," says Ron Kinkade of eVoice, a provider of virtual phone services. Today's culture is all about quick dissemination and highly interactive engagement. Voice mails don't do the job.
You Need an Opt-In Strategy
One of the biggest mistakes businesses make when first developing an SMS customer service strategy is assuming they can contact whomever they want, whenever they want. This simply isn't true. There are very stringent requirements in place in regards to how and when you can send messages.
There are FCC regulations, federal laws, and rules for different mobile carriers. In order to maintain a successful customer service SMS program, you must carefully satisfy all of these criteria.
While you should study the rules for yourself, here are the two biggest things you must be aware of: (1) Consumers must provide businesses with authorization to send messages, and (2) Consumers always have the right to opt-out and stop receiving messages.

Implement Post-Contact Surveys
When using SMS as a tool for providing support to customers, you need to understand what you're doing right and wrong. One of the best ways to gauge the efficacy of your efforts is by sending post-contact SMS customer feedback surveys. These surveys should be easy to read, short, and relevant. Only ask three or four questions and avoid overstepping your boundaries.

Don't Try to Do Too Much

It's clear that SMS is one of the top customer service solutions available, but it's not the only one. You must understand when SMS should and shouldn't be used. There are times when another medium – such as email, phone, or in-person support is better. Here are a couple of situations in which SMS probably isn't ideal:
There's a technical problem with a product and it needs troubleshooting. In this situation, it's impossible to provide the right amount of information in a short message.
There's a sensitive problem in which a customer is very emotional (angry, sad, hurt, embarrassed, etc.). Responses can be misinterpreted and may make the situation worse.
As you can see, SMS isn't foolproof. However, in instances where customers want a quick solution to a minor issue, text messages are the way to go.

Be Available Around the Clock

In the customer's mind, SMS is perceived as more flexible and responsive than a 1-800 hotline or email (unless, of course, they can text that 1-800 hotline). When they choose to use SMS, they expect a quick and courteous response – regardless of the time. You don't want to risk harming this reputation or you could erode the value of your SMS channel.
The best piece of advice is to have around the clock support. While you may not be able to provide personal responses in the middle of the night, you can always set up automated messages that tell customers when and how they will be contacted during business hours.
For example, let's say a customer sends a text message at 3 a.m. requesting service. A good automated response would be something like this: "Thanks for contact us Anna! We will send you a message at 9:30 tomorrow morning to set up an appointment." While this may not be the exact response a customer wants, it's better than ignoring the message for six hours.

Try OpenMarket Today

Did you know that 75 percent of millennials want you to text them rather than call them? As millennials begin to take over the marketplace, it's becoming increasingly important for businesses across all industries to recognize the value of SMS in terms of marketing, sales, and customer service.
At OpenMarket, we are proud to be one of the leading providers of SMS solutions in the world. Some of the largest enterprises retail, travel, financial services, and dozens of other industries rely on our solutions to reach customers and engage them in meaningful ways. If you'd like to do the same, then contact us today for more information.