OpenMarket – June 4, 2015
For many consumers and businesses, social media continues to be a popular channel for communication. It's a viable way to generate brand awareness while delivering a better customer experience. But for enterprise B2B buyers, it's still unclear how social media can directly impact the decision-making process and create real business opportunities.
A few years ago, research pointed to traditional marketing activities like tradeshows, websites/SEO and e-newsletters as the most effective programs for generating B2B leads. In fact, a chart from InsideSales.com showed social media as the least effective channel that was overused by most companies.
Fast-forwarding to 2015, data from SalesandMarketing.com indicates that compared to just a year ago, social media is one of the fastest growing channels used by enterprise B2B buyers to research products, solutions and vendors. Their data also reveals that 80% of buyers know what they want before they contact a vendor, making research – some of it done via social media – more critical to the buying process.
An IDG Connect survey found that B2B buyers use social networks across all buying stages, but mostly during the initial research phase. Eighty-nine percent of buyers say vendor-provided educational content is acceptable on social networks, and 64% say promotional content is acceptable. Furthermore, buyers are most interested in seeing links to informational content on social networks, such as reviews and comparisons.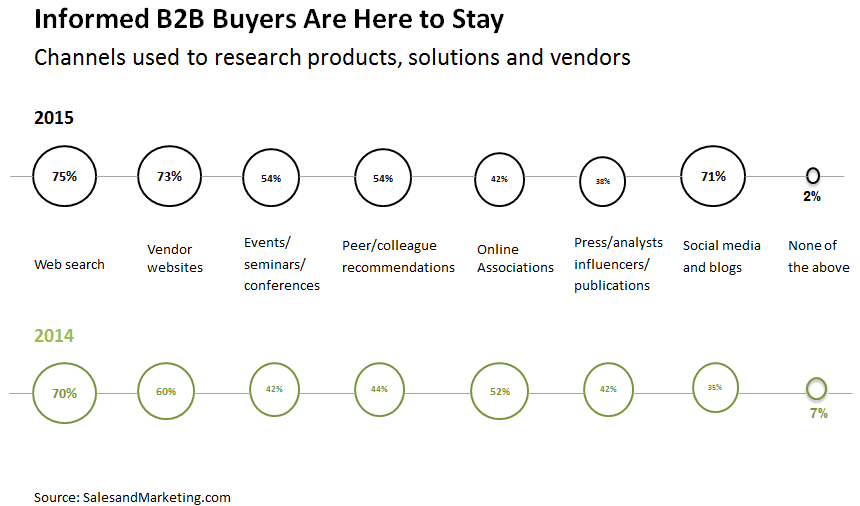 Naturally, with the enterprise buying network expanding and the purchasing journey taking longer, the interactions between sales and marketing are more diverse. The shift in the B2B buying process indicates that prospects are much more informed than just a few years ago. For marketers, this means we must utilize a multi-channel approach so that we appear wherever the buyer is. Just attending tradeshows or focusing on your website is not enough. Today, you must be present across all channels, including social media.
There are countless platforms, but for the B2B space in particular, LinkedIn and Twitter appear to be the key ones, with Facebook perhaps better suited for informal conversations. There is no doubt that posting articles about your company or product, sharing or 'liking' someone's post, tweeting at an event, or joining relevant groups can be effective tools for brand exposure. It's not clear, though, how this type of interaction will translate into real prospects for your business.
If you've had successful B2B experiences via social media, please share your thoughts. I predict it will remain a hot channel for many years to come. Whether it translates into sales opportunities remains to be seen.