OpenMarket – September 22, 2015
Many of our customers use our Professional Services team for a wide variety of tasks, including integrations with their internal systems and third party suppliers or training their staff, or even just for help configuring the OpenMarket platform to best suit their needs. These projects all vary extensively, but we have a common process that we follow to ensure that at the conclusion we meet the business need, have delivered a reliable solution on time, and that there are strong ongoing Business as Usual (BAU) processes in place to keep the solution running smoothly in the long term.
As a customer, what are the steps you should expect to follow when engaging OpenMarket in a Professional Services project? There are six main steps.

1.     Initial Discussion and Proposal
The first step in any project is to identify a business need and create a Proposal to address it. Typically a customer will come to us with a problem with their mobile engagement and ask their account team for input on how to solve it. The customer may already have a clear idea of the solution required, or may only know they have a problem and be unsure of how best to address it. Either way OpenMarket can help.
The first step is for the account team, relevant customer stakeholders, and our consulting team to get together and explore the problem. We will normally then recommend one or more options to investigate further.
The result of this engagement will be a written Proposal outlining the business need, OpenMarket's recommended solution, and a framework for a project plan that includes rough timelines and costs. We also include a list of remaining areas of uncertainty that need resolving before we can proceed to the next phase.
2.     Agreement of Statement of Work
The next step is to agree a Statement of Work (SoW) for the project. The SoW outlines the problem being solved, the solution, and the project plan. It contains as much detail as required to address any areas of uncertainty or technical design and integration.
The creation of a SoW is an incremental process. We start from the Proposal and build on it to create a document that both OpenMarket and the customer can work to throughout the project. It's at this phase that we design the solution in detail, agree on test plans, project timelines, deliverables and all the other things that need to be resolved before work can begin.
We also agree a project timeline and pricing in the SoW. OpenMarket's timelines typically identify milestones for the project – kick off date, dates for key deliverables, testing, launch, etc. We also typically provide a fixed price for projects – having the detailed SoW removes much of the uncertainty and allows OpenMarket to commit to both the timeline and price.
The end result is a signed SoW for a project that can proceed to Implementation.
3.     Implementation and Testing
Implementation is where the action happens. Our Professional Services team completes the final design and starts the development of your solution. All of OpenMarket's teams follow a carefully designed SDLC methodology to ensure a consistent approach to design, implementation and testing. The SDLC is also integral to ensuring the security of your data.
In addition to writing code, we implement multiple layers of testing that normally include automated end-to-end testing and monitoring of the key use case(s). We also set in motion any provisioning requests and infrastructure delivery that is required to support your solution.
While all of this happens, we follow an agile methodology to track progress and hold regular update meetings with the customer where status is tracked against the milestones agreed upon in the SoW. Below is an example of a tracking sheet that would be provided to a customer during an update meeting to illustrate progress throughout the project.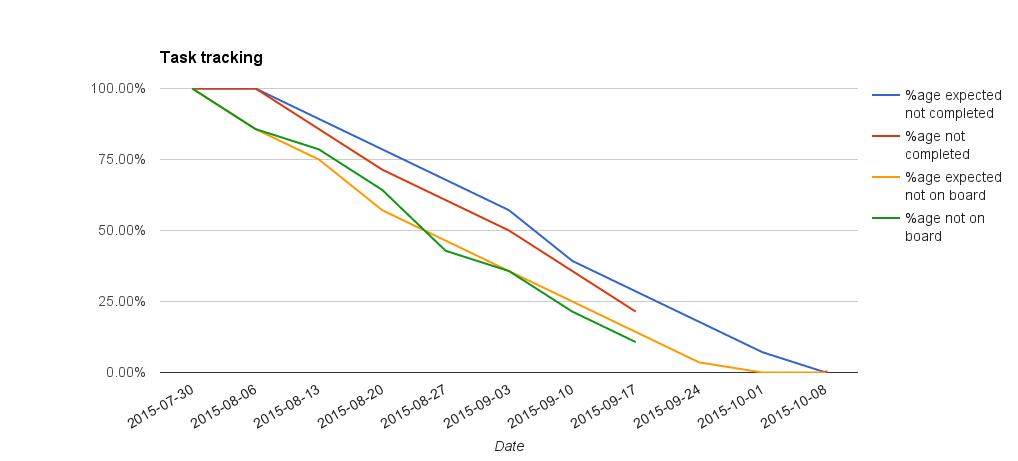 The SoW means we have a clear plan, but it doesn't set the project in stone. We have a change management process that allows us to make modifications to the project while it is on-going. Changes can include anything from small tweaks to the specification (such as updating an endpoint URL, or changing some timeouts) that don't have impact on price or timeline, or more significant changes which mean some re-planning is required. Regardless of the type of modification, our change management process means the change and its impact are clearly understood and agreed upon by both OpenMarket and the customer before any changes are made. Once changes are made, we ensure everyone is updated on the new plan.
During the implementation process, OpenMarket will work closely with the customer to perform testing of technical integration points, confirm the operational support and account management processes we will use, and complete any training and documentation the customer needs before they get started.
We'll conduct end-to-end testing of the use case(s) to make sure everything behaves as expected before the launch and make any minor adjustments needed based on feedback from the customer.
4.     Delivery
Once implementation and testing are complete, the customer signs off that they are happy that the product matches what was agreed upon in the SoW. At that stage, the final product is delivered to the customer for them to start using in production.
5.     Launch
In some cases, the launch of a project can be the most complex and key part of the delivery, especially in the case of one-off events or hard launches where end users will be heavily engaged from the start.
If that is the case, OpenMarket can provide hands-on Support and assistance at launch time to ensure a smooth and seamless go-live process. For example, the se-up of a "war room" conference call can help ensure clear communication of when a project is going live and provide an exchange of monitoring and metric information between OpenMarket and the customer.
During the main launch of the UK Stand Up 2 Cancer campaign, for example, OpenMarket provided both on-site and off-site personnel to assist with monitoring of traffic volumes, customer systems, and OpenMarket systems. This helped ensure a smooth, faultless launch period.
6.     Transition to BAU
Once the excitement of the launch is in the past and the solution is in regular use, we complete the handover from the project team to the teams that look after the business as usual process. The Professional Services consultants will liaise with OpenMarket's Support, Operations and Account Management teams to make sure your project is set to run without issue long into the future.
Regular BAU activity includes:
Making sure all operational documentation is completed.
Ensuring that the support team is familiar with the project and able to provide 24/7 coverage on any queries or issues.
Setting up regular (monthly or quarterly) service reviews with the customer's team. During a service review, OpenMarket and the customer report on service use, performance, SLA, and KPI activity.
Reviewing any Customer Experience issues OpenMarket may have identified through its technical monitoring.
Performing periodic hardware, software, and security upgrades.
The transition concludes the project and the PS team will complete the handover to the OM Support and Account Management teams before getting ready to start on the next engagement.
Please contact us today if you would like to learn more about how our Professional Services team can help you with your next Mobile Engagement project.