Julie Franzese, Customer Business Director – January 17, 2020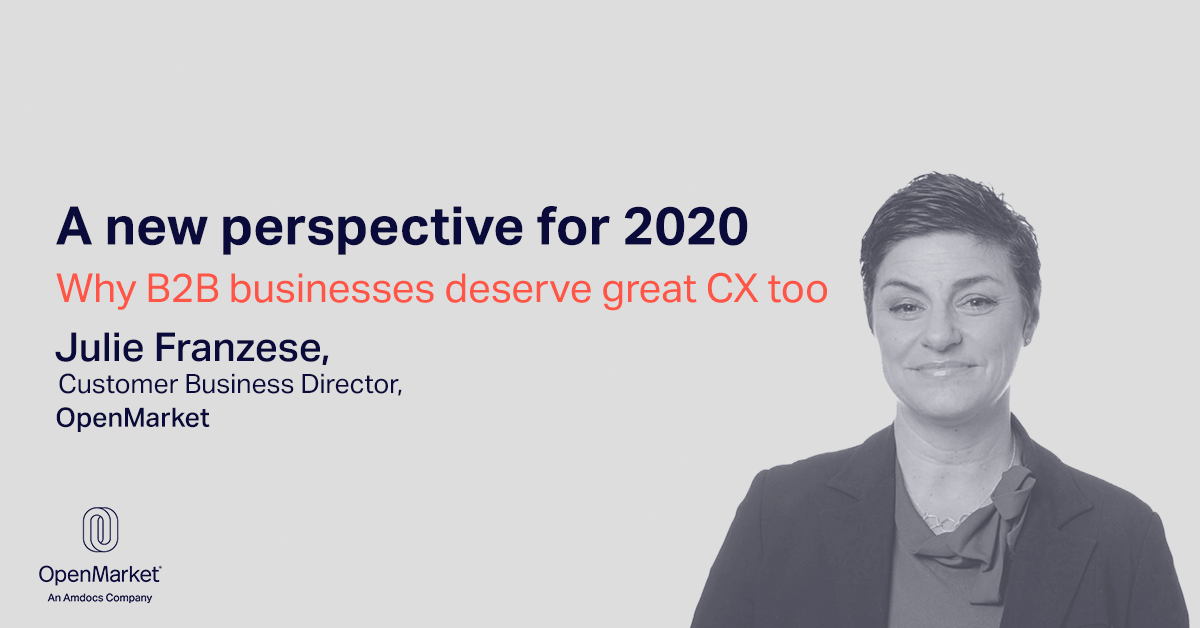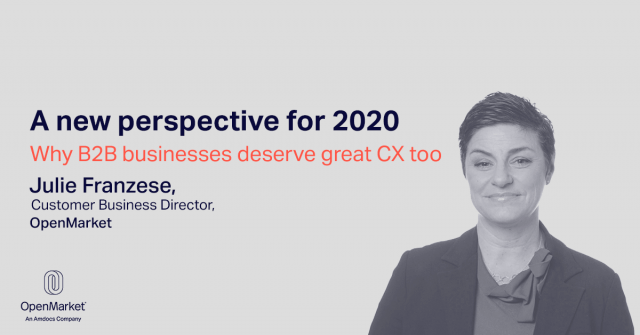 When anyone utters the words Customer Journey, I immediately think of Steve Perry and start humming Don't Stop Believin'. And when I was singing that song the first time it came around (in my shoulder pads and big 80s hair), I never stopped believin' that a day would come when companies stopped talking about themselves and started talking about their customers. And now that day is here.
Customer experience (CX) is a major focus for B2C brands. Most major brands have a head of CX that runs cross-department, cross-functional programs. Their only remit is to think about the customer and how their business can make the customer's life easier. They destroy the dreaded silos, segment and map customer journeys, improve touch points and anticipate needs. All of this is designed to ensure customers have an amazingly simple but delightful experience – and of course, say great things about the brand and come back again and again!
But in the B2B world, many organisations still pour money into new business development and forget about the existing customers that keep the lights on every day. Once a new company signs up for their service or solution, the experience often ends there. They then receive less-than-ideal customer service or support, and unless they're spending billions, don't get the personal attention they need to get the most out of the business solution they've purchased.
Maintaining high CX levels for your business customers
For any company, acquisition of new customers is important and there's no doubt that it should be part of your strategy. But retaining existing customers is equally, if not more, important – particularly in the B2B world, when a single large enterprise customer can make up a significant chunk of your revenue.
Existing customers can deliver ongoing value for your business too. The success rate of selling to a new customer is only 5-20 per cent on average, while the success rate for upselling to an existing customer is 60-70 per cent. And like everyone else, a B2B audience is looking for an experience that is simple and streamlined, fitting in around the other 100 things they need to do that day.
It's important to remember that every business buyer is also a B2C buyer in their own life. They're accustomed to easy, personalised online transactions when they're shopping for clothes, groceries or books – and they expect the same level of ease with their corporate transactions. Whether you're offering a software solution, consultation service or business hardware/materials, you need to make it easy for people to use your products and get information or help when needed.
Beyond every day support, you also need to find ways to be relevant and useful, to add value to customers and keep them engaged. This could be in the form of helpful content, email updates, social media interaction or events and webinars. If you can offer expertise and make it easier for customers to do their job, it will go a long way towards keeping your brand top of mind.
Putting it into action
At OpenMarket, we make sure that every one of our customers has their own account manager – an actual human being that they can meet, call, text, or email. Our account managers are people who really listen to our customers and understand their business and challenges.
Yet we also know that technology has a huge role to play in improving CX. We've developed operational, automated efficiencies that always drive an enhanced experience for our customers (because sometimes an algorithm just works better). We have a team of smart data scientists who track qualitative and quantitative data to ensure we put customers at the heart of our product development and our marketing. And we watch the industry and the policies that govern it to ensure our customers are safe and secure.
An easy place to start is with your internal data. If you're communicating with customers regularly, you should know the last time they opened a message from you or contacted support. With data on what products they're using, how they've communicated with you and what type of business challenges they're facing, you can craft a strategy to share useful tips and up- or cross-sell relevant products.
Conclusion
Good customer service in 2020 is about reducing complexity. Your business and enterprise customers are looking for a simple experience as much as someone streaming Netflix or shopping with Amazon. Your mission should be to reduce friction and create flow for your customers, and you need the right processes in place to do this. The key is to start learning as much as you can about your customer base and then look for ways to make their life easier.