OpenMarket – March 8, 2016
On February 22, 2016 the GSMA (a consortium of 800 carriers) announced that Google will help create a universal Rich Communication Service (RCS) client that will enable all GSMA carriers to provide RCS services. The Android RCS client provided by Google (based on Google's acquisition of Jibe Mobile) will enable consumers to access RCS services such as group chat, high-res photo sharing, read receipts, advanced calling features (e.g., video calling), and more. The Android RCS client would still support existing standards like SMS and MMS messaging. In addition to the handset client, Google is also providing/offering the cloud-based (network) component for carriers interested in using the Google RCS cloud functionality (via IP connectivity).
The GSMA has been pushing the transition to RCS for almost a decade, but the sluggish initiative has clearly lost momentum to other apps and devices. The recent expedited rollout of RCS is a direct response to popular over-the-top (OTT) messaging services (see chart below) like WhatsApp, Facebook Messenger, WeChat, Line, Viber and many others. These OTT services have had a significant impact on carrier peer-to-peer (P2P) SMS revenues.
Monthly active users per over-the-top (OTT) messaging provider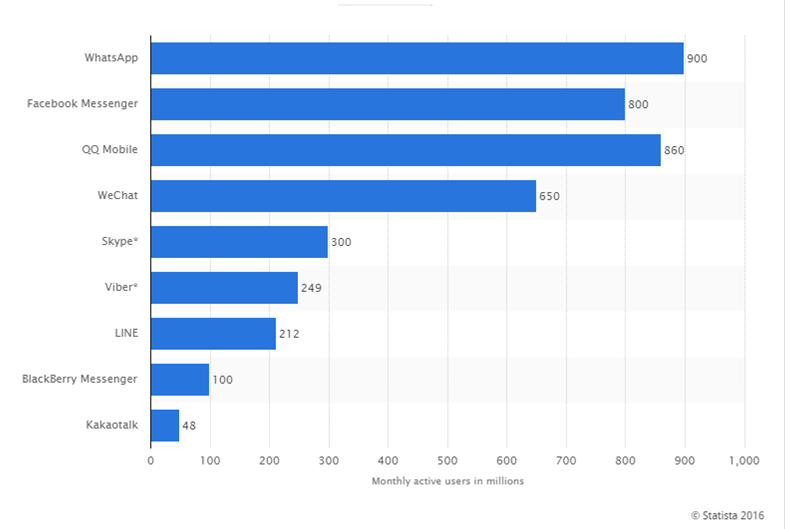 Source: Statista 2016.
For the GSMA-Google RCS initiative to be a success, there are several things that must occur.
Out of the box support – no app download required
RCS must be supported when someone buys a phone with the new Android RCS client. Requiring consumers to download a separate RCS app will doom the rollout. Now with Google's recent move, a good percentage of smartphones might get it – but there is still a big question on Apple's support for it.
A single inbox for traditional SMS and RCS messages
There must be a single inbox for traditional SMS and MMS messages, and also RCS messages – just like with iMessage on iPhones. Consumers don't want to manage two different inboxes for their text messages.
Interoperability, interoperability, interoperability
Users on different carrier networks must be able to send/receive RCS messages to/from each other – including Google and non-Google RCS implementations. Also, there must be interoperability between RCS and non-RCS phones. It appears that some of these items are planned, though they still need to be proven in real-life.
Let Google drive the App market for RCS
If carriers want to truly compete with the OTT messaging apps, then let Google drive the App market (valued-add services) for RCS, as Google has had a lot more success working with the developer community than the carriers.
Carriers can't charge extra for RCS functionality
If carriers try to charge extra for RCS messages, then this will be the 'kiss of death' for RCS. Carriers need to establish an alternative monetization model – perhaps a share of RCS-related app revenues, advertising revs, or per subscriber fees from Google, who is in a better position to monetize both apps and advertising. Or just bury the cost in the monthly data charge.
Mass adoption of RCS standard by carriers globally
The reality today is that less than 50 carriers have implemented the RCS standard. The GSMA-Google Android RCS initiative provides the opportunity to rapidly deploy RCS to potentially 800 GSMA carriers, but only if carriers are completely aligned, which is a big 'if.' There are of course a lot of things that could undermine the initiative – depending on carrier priorities, customization requirements, monetization plans, adoption of Google RCS cloud service (in additional to RCS handset client), etc.
Make sure there is an A2P/E2P play
Though carrier P2P SMS revenues are declining, their application-to-person (A2P) or enterprise-to-person (E2P) revenues have increased and are forecasted to continue to increase over the next several years, according to Portio Research. RCS could help to accelerate A2P messaging revenues for carriers by providing a much richer experience for mobile marketing, supported by better analytics, click-to-call and more.
Today SMS connects over 6 billion people (Source: Portio Research), more than any other platform ever in human history (see chart below).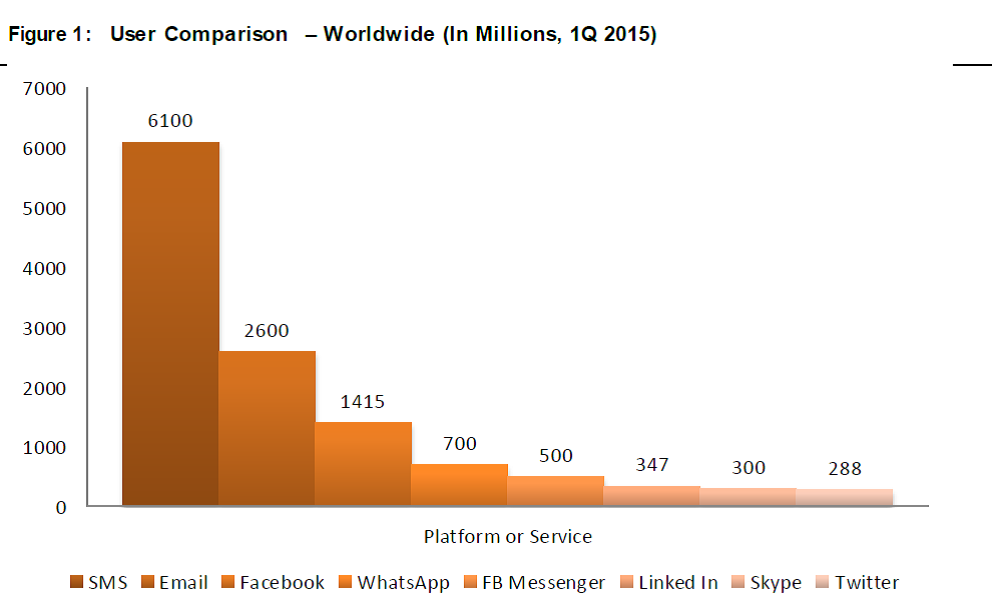 Source: Portio Research, "SMS: The Language of 6 billion People," 2015.
RCS is a real opportunity for carriers to transition SMS users to advanced carrier messaging services – leveling the playing field with OTT messaging players, while increasing P2P messaging usage and driving higher A2P messaging revenues. But given the upside of RCS, the million dollar question remains: can the carriers finally work together to make RCS a real success?