OpenMarket – March 10, 2016
When you look at basic business models, most would tell you that there are two overarching strategies that every organization falls under. There's B2B – in which businesses do business with other companies – and there's B2C – in which business sell products to end consumers. However, thanks to technology, a new model is emerging: B2Me.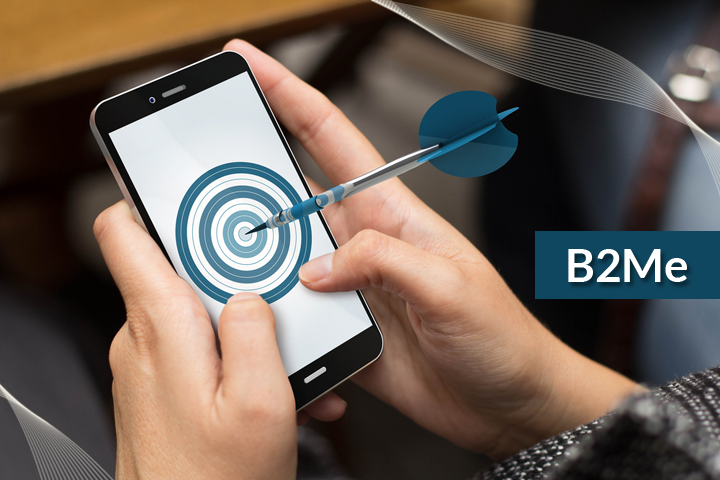 What is B2Me?
For decades, we've been using the terms B2B and B2C. However, every business is unique. Businesses are dynamic organisms that can't – and shouldn't – fit into neat molds. As technology has evolved and businesses have begun to follow new trends in the marketplace, so has the demand for a new category of business marketing: B2Me.
According to marketer Paul Flanigan, "The simple definition is the practice of marketing to the individual based on the desires of that individual.  It's not about closing a sale, it's about developing a relationship with every single unique individual." In other words, B2Me is all about customizing marketing messages to meet specific needs.
It's no coincidence that this new business model has arisen amidst a much larger market trend of personalization. As consumers become conditioned to the ability to customize products, they naturally begin to expect customization in other aspects of their lives.
In terms of marketing, this means consumers now expect brands to tailor their messages to their tastes, interests, and individual pain points. "With B2Me marketing, the individual customer is at the center of marketing activities," writes Gregor Perotto, digital marketing expert. "Because you can customize and personalize content, there is an expectation from consumers that they have a personal relationship with that brand and product."
5 Tips for Taking a B2Me Approach
If you want to capitalize on this trend of personalization and a consumer demand for highly specific and relevant messages, then you need to invest in a B2Me-inspired marketing strategy. Here are some helpful points to get you started in the right direction.
Start Collecting Information
You can only be successful at B2Me marketing if you understand who your target users are. And we aren't talking about developing basic customer profiles, though they can be helpful. We're talking about rolling up your sleeves and really digging into the data.
Find out where your website visitors are coming from. Figure out what stage of the buying cycle they're in when they contact you. Determine their preferences and pinpoint exact needs.
Thankfully, collecting information and data is now easier than ever. There are literally thousands of different data and analytics tools available at your disposal. Ignoring them is essentially the same as saying you don't really care who your customers are or what they want. And, quite frankly, that's a death sentence for the future of your business.
Target Your Content
The next tip is to target your content based on the insights you glean in regards to specific customers. For example, the people who visit your YouTube channel may be quite different than the visitors who peruse your website's blog. One group is probably looking for quick, visual content, whereas the other may be more inclined to research and case studies.
Targeting your content allows you to speak to multiple groups of customers without compromising your stance. You aren't changing the information – you're just tweaking it to fit your audience's preferences.
Become More Flexible
People are always changing. And this typically happens much faster than marketers anticipate. In the B2Me economy, you need to be flexible and willing to adapt on a moment's notice by responding to new attitudes. It won't always be easy or comfortable, but it will always provide hefty returns.
Take Some Risks
As robust as today's analytics tools are, they won't ever be able to fully paint the picture of who your customers are. This means it's impossible to approach marketing efforts with 100 percent certainty.
Don't be afraid to take some risks from time to time! As long as these risks are calculated and consistent with your brand's message, you won't experience any long-term negative effects. However, it's quite possible that you could enjoy some long-term benefits.
Learn from Those Around You
The idea of B2Me is fairly new. This means there isn't a lot of content and advice in circulation about how to approach it. The best thing you can do is become a trailblazer, encourage those around you to join, and then learn from each other. You'll learn much more about B2Me marketing from doing than you will from reading.
The Outlook on B2Me
Whether you've classified your business as B2C or B2B in the past, you can adapt to become a B2Me organization. However, Flanigan feels like B2Me will have the biggest impact in B2B industries where companies are automated and cold.
"You, representing a company, talk to a client, representing a company, and you sell to that company through the rep," he writes. "The benefit that B2ME brings to the relationship is that the rep is human, has good days and bad days, and feels certain ways about things. B2ME is about recognizing that, and tailoring the relationship to respect those unique qualities."
OpenMarket: a PostalVision 2020 Conference Sponsor
At OpenMarket, we feel strongly about B2Me and the impact personalization is having on the marketing industry. Since we work with some of the largest enterprises in the world, we have a keen understanding of what consumers desire.
What we've seen over the past few years is that SMS is the only engagement channel that's able to satisfy the average consumer's demand for highly relevant and timely information. SMS has been proven to increase customer satisfaction, while simultaneously driving down operational costs and enhancing actionable insights. That's why we believe SMS will play a major role in B2Me moving forward.
This is also why we are proud to be a Pillar Sponsor at the upcoming PostalVision 2020 Conference where B2Me will be the primary topic of discussion. For more information about our mobile messaging solutions related to B2Me, please feel free to contact us today!