OpenMarket – March 2, 2015
The following story outlines a real-life scenario when an SMS survey campaign goes wrong.
Every day I travel to various destinations via a wide range of transportation means. I've suffered through some of the worst journeys (think: rickety night-bus through steep switchbacks while your upper bunk partner throws up over the side of the bed), but I've also experienced the wonderful Zen of smooth, fast and delightful travel where I didn't want the journey ever to end because it was undoubtedly better than my destination (think: lovely air conditioning trip in a hot, crowded city). Those are the journeys I strive for, so I am always happy to provide feedback to help travel companies improve their service and provide a better experience while we all barrel towards our destination together.
In the spirit of providing feedback to help improve customer service, I recently participated in an SMS survey on a train that advertised a local mobile phone number to text with a keyword and my feedback. Right from the start, there was an issue – there was no guidance or specific instructions about what that feedback should be based on, or how it should be structured. I can't imagine how are they going to respond to each unique response they get:

Well, I got my answer pretty quickly…they treat every response the same: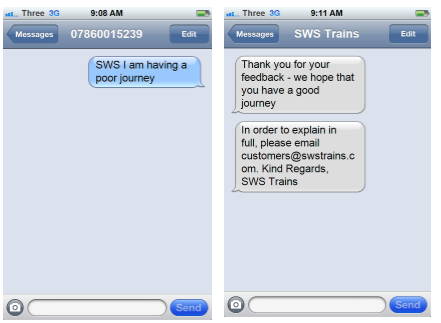 So the response ignored what my feedback had indicated (that I was having a poor experience), and it arrived into a different text window than I expected. Then, a full 12 hours later, I got the second message from them asking me to email my full response.
Now, for me, that just was not a good experience.
First of all, I had to use a keyword to text a mobile phone number. Why could they not have used a different phone number for each train? Did the keyword "SWS" really identify which train I was on? (It didn't.)
By using dedicated Virtual Mobile Numbers (VMNs), the experience could have been much different. VMNs can be purchased at a much lower cost than short codes, are fairly instantaneous to provision since networks keep them available, and I can have a dialogue back and forth (in the same text window) with the number without worrying about using messages outside my bundle.
Another thing that bothered me about the survey was the lack of direction – why not present a clear question to users with a clear response such as:
With the above structured question and answer model, a Mobile Engagement Platform (such as OpenMarket's) can gauge the initial response from the end user and according to a decision tree-like set up, edit its response accordingly:

So if a response is below 3, they get an apologetic text, like the one above.
If the response is between 3 and 7, the response is more neutral and if the number is above 7, then we are happy the customer is enjoying their trip and we hope to continue the good service.
A guided survey is easy for the end user to respond to accurately because they only have to write one number in their text and they get a response according to the rating they gave, which make the service seem much more personal.
My advice for any business using SMS as a means to gather customer feedback, is to keep it simple, use a dedicated mobile number per target group to eliminate the need for keywords, and tailor responses accordingly (and immediately) for each customer's response.
VMNs are very effective for services that involve a large number of target audiences such as supermarkets, trains or anywhere that needs its own dedicated analysis of responses.
Try out an SMS Survey today – it's easy to set up in our Mobile Engagement Platform and you can be up and running immediately.