Jonathan Morgan, CEO, OpenMarket – March 1, 2016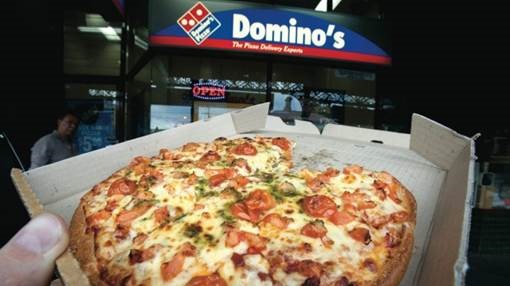 OpenMarket is in the business of Mobile Engagement. But what does that mean? I find one of the best ways of describing it is through a real world example.
Here's one from an enterprising company: Dominos (ASX: DMP). It holds the master license for the famous pizza delivery chain in a variety of countries around the world. Now until very recently, Dominos was called "Domino's Pizza in Australia," but perhaps in a sign of things to come, it has recently rebranded by dropping "Pizza" from its name. Interestingly enough, it's been one of the highest performer on the ASX 100 over the last year, and currently enjoys a p/e ratio of around 68. This is broadly a measure of how highly rated a company is: the bigger the figure; the more investors expect it to grow in the future. Facebook is around 100, for example.
Dominos recently launched what is perhaps a great example of Mobile Engagement. Here are some real messages to explain:
Remind customers of key promotions around the time of sporting events, in this case the NRL Grand Finals (Rugby) in September/October.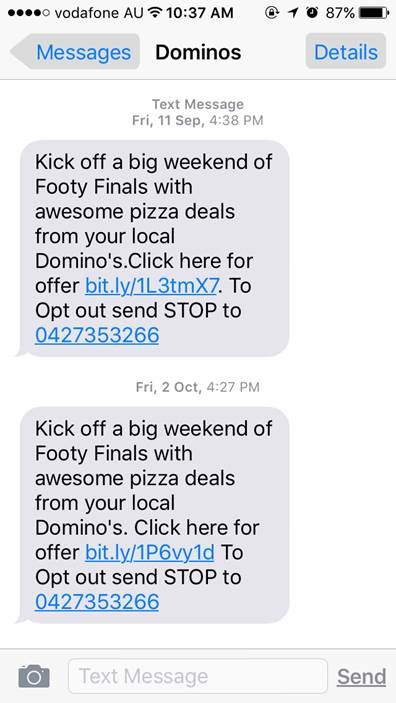 You could send these offers via email or even post, but there's an immediacy factor to SMS. Nearly everyone has a mobile phone, and 90% of recipients read SMS within 3 minutes of receiving the message. You'll notice that 4:30pm is when customers start thinking of dinner, so it's important to get the offer into their hands at that time.
Build on that by varying the time of the offer – in this case a lunch time match on a Sunday.
Need to drive volume?
Put the offer into the customer's hands with minimum delay, at a time when they have a high propensity to buy. You'll notice 11am and 4:30pm featured again.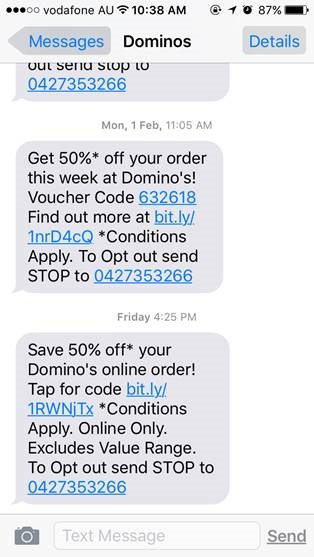 Special events like New Year's?
The perfect solution – wish your customers a Happy New Year and hawk Pizza at the same time!
And then really take it into overdrive…
Allow the customer to request their previous order and have it delivered to their primary account address just by replying to the text message they receive.
And that ladies and gentlemen, is a fabulous example of what Mobile Engagement can do. Feeling hungry yet?
OpenMarket has a proven cloud platform that can help you bring this sort of capability to market. Whether you're a well-known brand like Dominos or operating in a completely different industry, we can help you launch your mobile engagement programs in any country in the world and then take your campaigns global when you are ready. Contact us to learn more.