OpenMarket – January 12, 2016
As recent market research has pointed out, SMS has become the most widely used form of written communication the human race has ever used.
"We highlighted the fact that in 2015 we have a global population of 7.3 billion human beings, and that among us we have 7.1 billion active mobile SIM cards, and approximately 6.1 billion people who use SMS every month. There is simply no other form of written or digital communication that has ever been so ubiquitous."
"SMS: The Language of 6 Billion People" – Portio Research
Application-to-person (A2P), or now more frequently referred to as enterprise-to-person (E2P) messaging, is growing rapidly as businesses realize the value of mobile messaging when communicating with customers and employees. In 2015, A2P SMS represented an estimated 22.4% of total SMS traffic worldwide, at a time when there were 7.17 billion mobile subscribers, sending a total of 7.3 trillion SMS messages annually.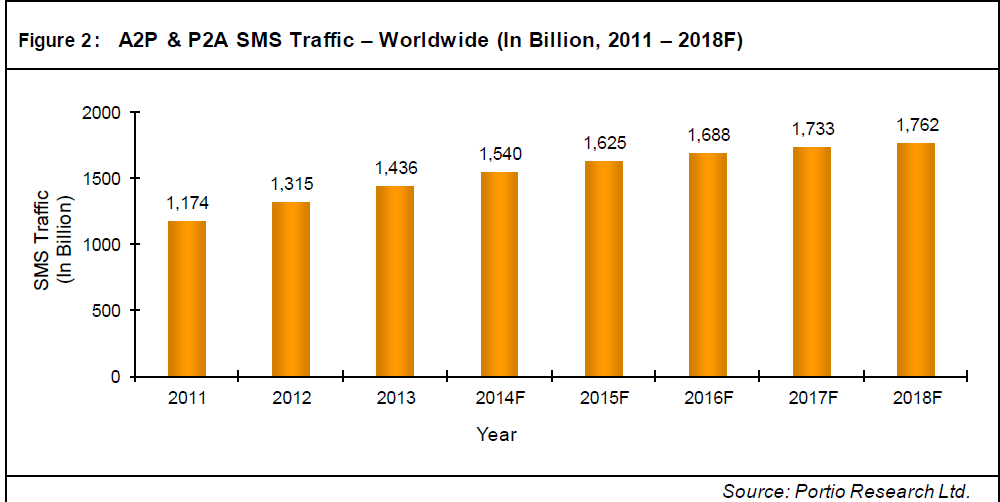 Most common E2P use cases include SMS-based two-factor authentication, order and delivery alerts, appointment reminders, customer service, fraud alerts and other informational alerts, marketing promotions, employee communications and emergency notifications. In North America in particular, we've seen an increase in use cases that incorporate texting to toll-free numbers. Use cases can arise from all business functions, industries and regions.
OpenMarket Sees Growth in E2P Global SMS
E2P messaging is truly global. OpenMarket, which offers 1-way SMS to more than 200 countries and 2-way SMS to more than 50 countries, is experiencing higher levels of E2P messaging growth than forecasted in the Portio Research report cited above. Below is a table showing MT (Mobile Terminated) message growth (1-way and 2-way) over the last 12 months in some key countries that OpenMarket operates in.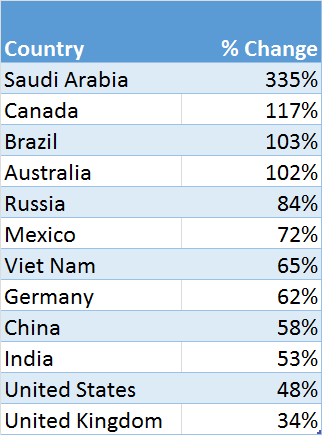 OpenMarket 2015 E2P Global SMS Growth
Large Corporations Can Have 50 Use Cases for SMS
SMS is now used in more enterprises – beyond even the Fortune 100 – than we might have imagined just a few years ago. There could easily be up to 50 or 60 use cases in a large company where SMS could be implemented to communicate up and down the entire organization – with customers, suppliers, staff and partners.
If you're interested in learning more, then please contact us.