OpenMarket – June 24, 2020
SMS messaging helps brands reach customers in the moments that matter.
It's a direct line to your customers' inbox and offers a 98% chance that your message will be read within seconds.
But now SMS has become even more effective – thanks to a new business messaging solution called Branded Messaging.
Introducing Branded Messaging Services
Branded Messaging is powered by indigo, OpenMarket's new multi-channel messaging platform.
For the first time, you can send an SMS and have it delivered complete with your brand name and logo in the coveted messaging inbox.
The indigo platform effectively upgrades your SMS to an RCS message in transit – with no set up needed on your side.
Compare messages
Take a look at a normal SMS message compared with a Branded Message.
Compare these inboxes too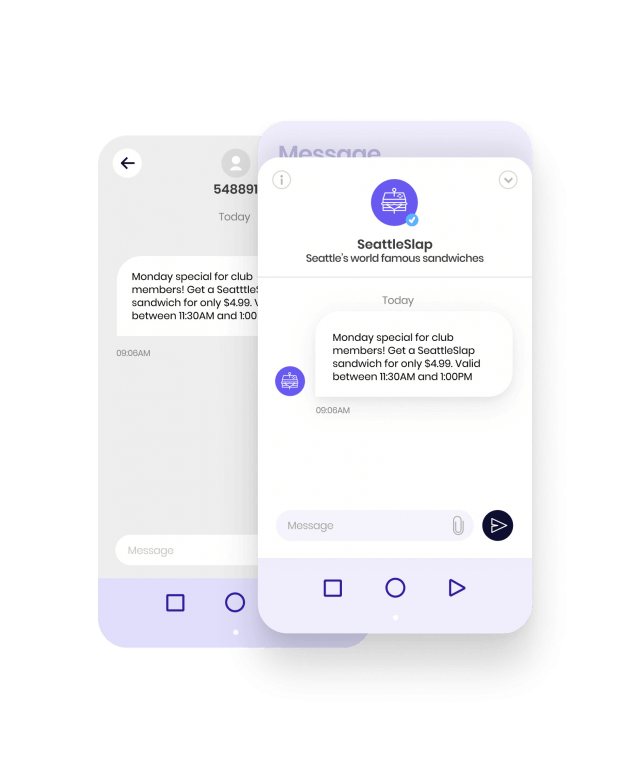 Branded Messaging Services Benefits
You can think of the benefits of Branded Messaging from two points of view: your customer's and your brand's.
Your customer gets a better messaging experience, with engaging, recognizable branding. It also gives them peace of mind knowing they can trust the source. Branded Messaging relies on strict RCS registration processes with carriers, so it's much harder for fraudsters to imitate your brand.
Meanwhile, you get unprecedented brand penetration in messaging inboxes, as well as delivery and read receipts.
Effortless empathy – by indigo
The beauty of a Branded Messaging service is its simplicity. You can approach it in a few ways, depending on how you send messages today.
You can use our service to 'upgrade' your SMS messages to a Branded Message – which is technically an RCS message – whenever the service senses a device that supports rich messaging. You can get started fast, without the need for any new tech investment. All you need is a campaign ID – we can handle the rest in the back end.
Or you can commit to rolling out rich RCS messaging (with a fallback SMS format when the receiving device can't support a rich message). This way you deliver a branded message, as well as an app-like, image and video-rich experience for customers. We can help with that too.
Give your messaging a brand boost
Thanks to the indigo multi-channel messaging platform, it's never been easier to send stand-out, on-brand messages.
Learn more about what makes Branded Messaging special – and how to get started – over here.
Or to speak to an expert, get in touch.