OpenMarket – February 23, 2015
Mobile Apps vs. Mobile Messaging: Which is Better for Customer Engagement?
When it comes to choosing an approach to mobile engagement we get a lot of questions from companies about which tools to use. From the examples we've seen, many of the brand leaders in mobile engagement are using both mobile apps and messaging. That said, understanding the differences between the channels will help you choose which is right for various use cases, objectives and audiences.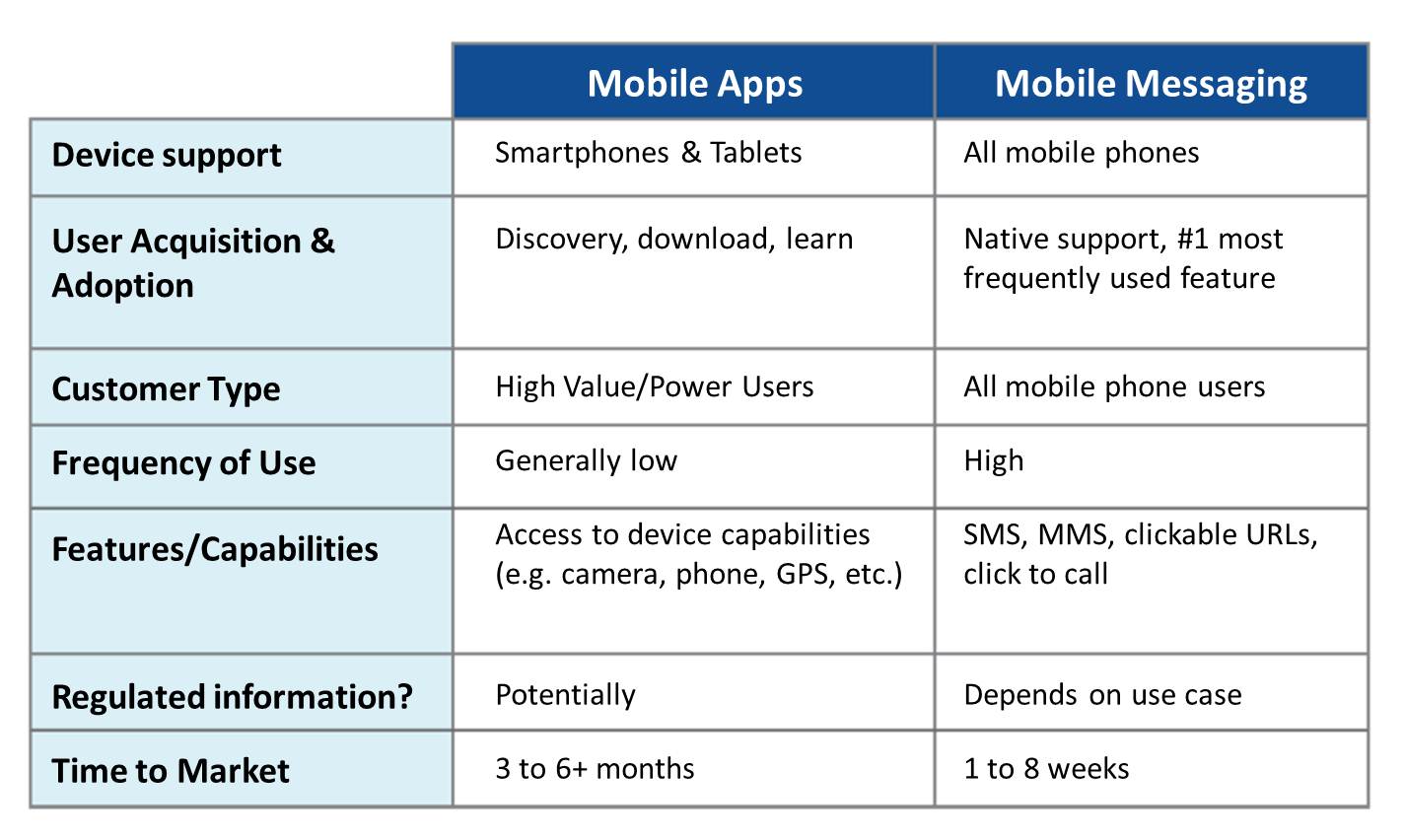 Device Support
Mobile apps work on smartphones and tablets, while SMS works on all mobile phones, including feature phones – more than 6 billion devices in total across the globe. If you're trying to reach all mobile users then go with SMS. If you're just interested in smartphone and/or tablet users, then apps will suffice.
User Acquisition and Adoption
Mobile apps must be discovered, downloaded, installed, learned, and used regularly to have any impact on engagement. All mobile phones natively support SMS, which is the most frequently used feature on a mobile phone. Furthermore we see businesses using texting to promote the availability of their mobile app to drive download adoption.
Customer Type
Mobiles apps are good for engaging with high-value, power users, who require the rich user experience (UX) that a mobile app can provide. If you're interested in engaging with all of your customers via mobile, then SMS is better due to its ubiquity.
Frequency of Use
Except for the hot consumer apps or power users (think road warrior who uses the same travel app[s] every week),   most mobile apps aren't used much. Research shows that SMS is the most frequently used feature on a mobile phone.
Features/Capabilities
Mobile apps are able to access the native functionality of a smartphone, including the camera, phone, GPS and more – which can make for a richer user experience. SMS can support clickable URLs, click to call, or send multimedia via MMS.
Regulated Information
Mobile apps can potentially support regulated info (e.g., HIPAA, PII [personally identifiable information]) depending on their security. For SMS it really depends on the use case.
Time to Market
The average 'brand' mobile app can take at least 3-6 months to develop. SMS short codes for marketing campaigns can take up to eight weeks to get approval by carriers in the US (regulations vary by country), but U.S. long codes for non-marketing use cases (e.g., order or shipping alerts) or text-enabling landlines and toll-free numbers (e.g., call centers / customer support) can be provisioned in less than a week.
Summary
For a rich UX mobile apps are generally best, but many use cases (e.g., notifications, fraud alerts) can be better supported via SMS if the goal is reach, ubiquity, familiarity, and time-to-market.