OpenMarket – October 13, 2016
Few industries are as progressive and modernized as the travel industry. From airline companies to hotels and restaurants, thousands of businesses are quick to adopt new marketing and communications strategies. This certainly holds true when it comes to SMS and the role it plays along the entire traveler journey.
The Role of SMS in Travel and Hospitality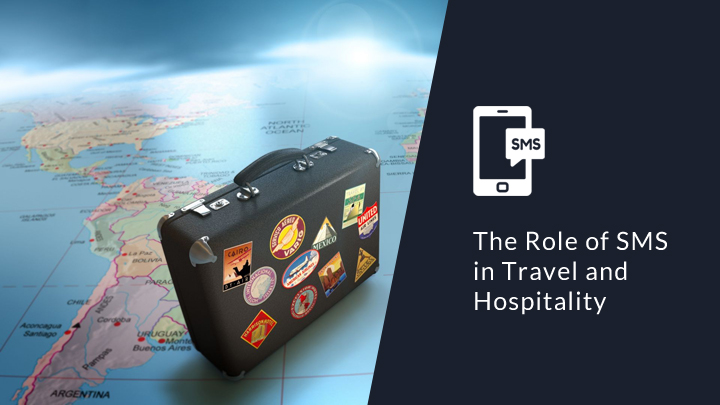 In the travel and hospitality industry, SMS is becoming a powerful asset for communicating with customers and guests. Specifically, our own OpenMarket research shows that 82 percent of travel and hospitality companies believe mobile messaging has a "considerable" or "major" influence on their ability to grow revenues. A substantial 90 percent feel like it has a "considerable" or "major" impact on customer service.
While there are many possible uses for SMS, industry experts agree that five are more significant than others. They are: attracting and retaining customers, enhancing customer experience, gaining deeper insights into customer behaviors, global communications, and multichannel delivery capabilities.
The Versatility of SMS Along the Traveler Journey
In order to show just how valuable and versatile SMS is in this industry, let's take a look at an example. We'll follow an individual – let's call her Mary – through a simple travel journey and make note of the individual points where SMS could be incorporated by various businesses and brands along the way.
Flight Confirmation
Mary, who lives in Atlanta, decides that she wants to take a short trip to see her sister in Denver. So, she goes online and books a ticket. During the checkout process, the airline asks her if she wants to receive text notifications about her trip, and she says yes.
On the day before Mary's flight, she receives a simple SMS reminder that her flight will be leaving Hartsfield Jackson Airport at 10:15 a.m. ET the following morning and that she's scheduled to arrive at Denver International Airport at 11:35 a.m. local time. Mary sets her alarm to wake up in the morning and begins packing.
Mobile Boarding Pass
In the morning, Mary wakes up to find a mobile boarding pass on her phone – which means she doesn't have to fiddle with printing her ticket or using one of the kiosks at the busy airport. This saves time and alleviates worry. Upon arriving at the security checkpoint, she shows the employee her phone and they scan the ticket. She'll then show that same ticket at the gate.
Flight Delay Notification
Mary clears security at exactly 9:00 a.m. and decides to get a cup of coffee at the café in the terminal. While enjoying her cup of coffee, she receives a text message from the airline telling her that her flight has been delayed. It will now leave at 10:45 a.m. and the gate has changed from B2 to B35. It's not exactly the most convenient delay, but Mary is at least happy knowing she doesn't have to go to gate B2, find out about the delay by reading the digital signage at the boarding gate, and then hike all the way to B35.
Customer Service Complaint
Mary's flight departs at exactly 10:45 and arrives in Denver approximately three hours later. She exits the plane, follows the signs to baggage claim, and shoots a quick text to her sister to let her know that she's arrived and should be ready to be picked up in about 15 or 20 minutes.
Fifteen minutes pass – and then 20 minutes. Now it's been 30 minutes and most everyone has located their bag and gone on their way. After 35 minutes, there's just one or two pieces of luggage going around in circles – neither of which are Mary's. The pit in her stomach begins to grow – they lost her luggage. What does Mary do? She texts the airline to let them know. They quickly respond and begin working on resolving the issue.
Hotel Reservation Confirmation
While the luggage situation is being figured out, Mary scrolls through her messages and looks for the hotel reservation confirmation that was sent to her earlier this week. She reviews the information and notices that they have a link which allows her to perform a mobile check-in. She's got some time, so why not? Mary completes the entire check-in process from her phone and now has one less thing to worry about.
Restaurant Reservation
Thankfully Mary's luggage did make it to Denver. They just put it on the wrong cart. The airline company helps her locate it and she's on her way. But since the whole ordeal took a couple hours, it's now getting later in the afternoon and Mary is thinking about dinner. She's not familiar with the restaurants in the area but wants to take her sister out somewhere nice. So, she finds a popular restaurant and makes a reservation via SMS. She gets an immediate response letting her know that the reservation has been confirmed.
Surveys and Feedback
Mary had a great time on her vacation in Denver and the return trip back to Atlanta went off without a hitch. A couple days after returning home, she's sitting on her sofa and receives a text message from her hotel. They're asking her to answer a couple of survey questions, so they can gather feedback on her stay. Mary obliges and takes the survey.
OpenMarket: Connecting the Travel Industry With its Customers
As you can see, SMS isn't just for one specific company or application – it has incredible versatility and functionality. If you're in the travel and hospitality industry, chances are there's an opportunity for you to begin using this powerful mobile communication channel.
At OpenMarket, we're recognized as one of the leaders in SMS and mobile engagement. We offer cloud-based mobile messaging solutions that give you the freedom to build and deploy highly functional and customized mobile messaging programs that support both one-way and two-way communication.
If this is something you're interested in learning more about, then please contact us today!