Giovanni Benini, Director of Product Management - Global SMS – May 11, 2016
I gave up owning a car when I moved from Germany to the UK, as some of might recall from my previous blog post. Still, my interest in transport and traffic-related topics has only grown since. One solution that the UK invented is the "modern roundabout". This brilliant idea of giving the right-of-way to drivers in a circular intersection allows for smoother traffic flow that reduces delays and pollution, and also leads to higher safety. Well done, Britain!
However, over the last holiday weekend I rented a car for a wonderful trip to the countryside. When I returned it to Heathrow Airport, I suddenly faced this nightmare of a roundabout, the Hatton Cross Roundabout (shown below).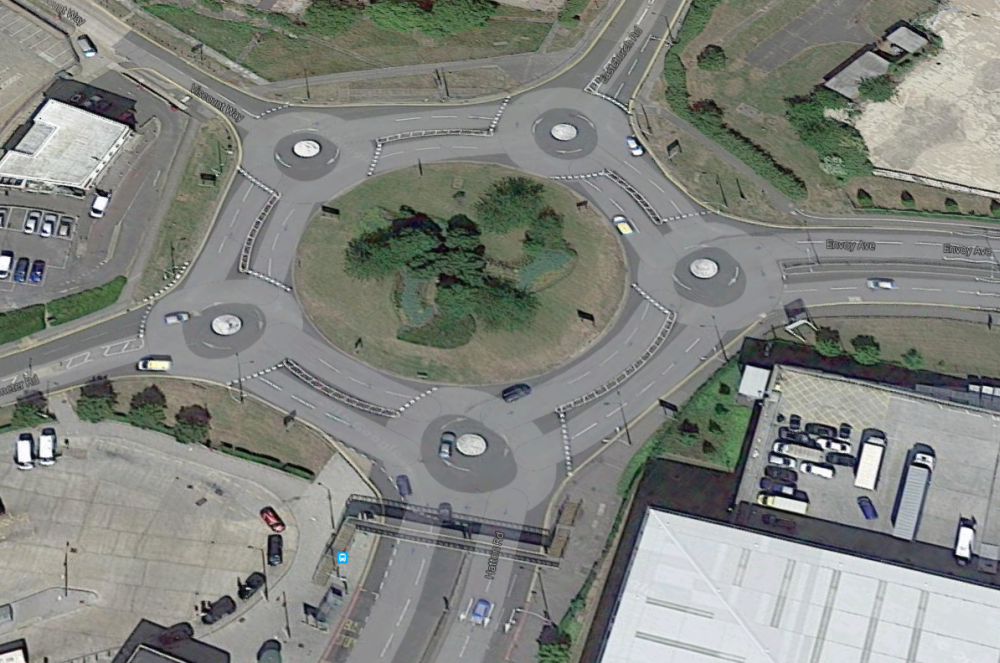 I was completely overwhelmed with the five mini roundabouts interconnected like pearls on a necklace, allowing traffic to flow clockwise and counter-clockwise at the same time. Luckily it was Sunday and I was pretty much alone on that monster of confusion so that I could correct my faulty driving after accidently finding myself against opposing traffic. This 1970s invention that is also dubbed "The Magic Roundabout" is a perfect example of how the simple and brilliant idea of roundabouts can get overburdened with complexity.
Similarly, in a completely different field like telecom, is the question of how to distinguish mobile operator networks. The global telecom standards body ITU-T came up with simple, yet effective concept of defining the Mobile Country Code and the Mobile Network Code or in short, MCC/MNC. Brilliant, a unique ID for each mobile operator. Well done ITU!
However, that's when the trouble starts: mobile operators merge – ok so we end up with a few MNCs per operator, that is still easy to handle, even if India used this to its extreme by dividing every operator into geographic so-called circles (India really needs the 3 digits of the MNC at its full extend).
Then, unfortunately non-GSM operators like CDMA-based operators in the US did not use the MNC consistently: some do, and some don't have an MNC at all. So now we are talking about most countries using one or many MNCs per operator and some countries having operators without any MNC. A big dent in the simple idea of a uniform and global idea of identifying mobile operators.
It gets worse: MVNOs! Mobile Virtual Network Operators are leveraging parts or all of the network equipment of a mobile network operator. Some (mostly the ones with their own core network equipment) received their own number ranges and with that, got their own MNC, but many didn't. An example is in Australia's Optus network where there is the ("light") MVNO Virgin Mobile Australia that has no separate MNC. This makes it impossible to do a number lookup upfront for distinguishing Optus from Virgin – still the prices to send an SMS message are very different. Then there are "full" MVNOs like Lycamobile that operate across many countries and use a central HLR in the Netherlands to cater for numbers from other countries, resulting in a number (in some cases) to appear to be Dutch despite being from a different country.
Last but not least there is the challenge to query the MNC based on a phone number. With more and more networks deploying so-called Home Router or Firewalls, the MNC information fed back is often distorted, especially for ported numbers. And countries like the UK and Japan miss a central database to retrieve the accurate network information per number and hence, need explicit querying.
This bottom line is that asking which network a phone number is in proves to be more complicated that you might expect. As with the traffic roundabouts having a good GPS navigation system is of great help, OpenMarket will be your guiding post on delivering your SMS to any destination in the world –regardless of the MNC confusion. Contact us today for more information.