OpenMarket – July 15, 2014
Most anyone in tech or IT has seen the big stats on mobile apps – billions of downloads (Gartner Says Mobile App Stores Will See Annual Downloads Reach 102 Billion in 2013), average number of mobile apps installed per smartphone, hours a day mobile users spend on apps, etc. But, what are all these apps being downloaded, how exactly are people using them, and do they have anything to do with enterprise business?
Enterprise 'mobile app' love affair
I read a lot of industry articles and analyst reports in my role and it looks like every business is working on a mobile app, and in most cases several apps. Many of these apps are being developed for customer engagement purposes – promotions, customer service, shipping notifications, appointment reminders, surveys and more. They are also built for employee engagement – emergency notification systems, IT outage alerts, and corporate communications. At OpenMarket, we sell mobile engagement solutions – SMS, MMS, push notifications for mobile apps, and our Mobile Engagement Platform – so these questions around mobile app effectiveness hit close to home.
Are mobile apps really the best channel for mobile engagement? It really depends on the use case and objective of your engagement. If you require a really rich user experience and/or are focused only on your top 5-10% 'VIP' customers (think road warrior who flies the same airline and stays at the same hotel each week), then a mobile app strategy might be best. But for most any other use case, SMS might be better suited for your needs, especially if you're looking to get a service off the ground quickly.
Check out some interesting stats and excerpts below that support this view:
Most mobile apps have nothing to do with enterprise mobile engagement
Most mobile apps are used for entertainment, not for business purposes. The infographic below shows that 80% of mobile apps are used for gaming, messaging, social networking and other entertainment. (Source: Flurry)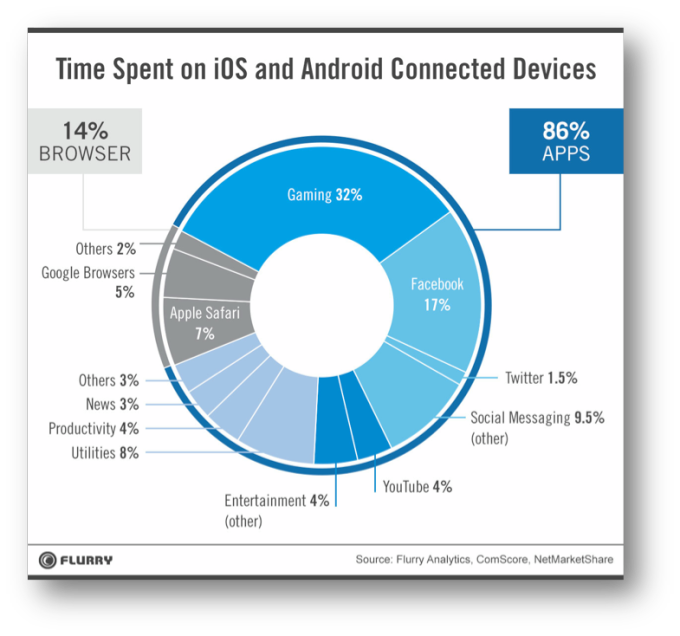 There is a great excerpt below discussing how a report on mobile app usage misses the point regarding brand engagement – all those stats on mobile app download don't necessarily translate into brand engagement.
"The study goes on to show how much more time people spend in apps than on the web. But what it failed to show was 'meaningful' brand engagement time spent on the device.
While there is no disputing most spend more time in social media and games on our device than shopping or searching on the web, it in no way reduces or impacts the outstanding fact that 90% of consumers still search and shop on their device through the web, not apps. And this is where impactful engagement and brand loyalty are actually happening. In fact, very few companies have or likely ever will land a coveted place in the very selective device real-estate. Apps take memory and clutter a device interface." (Source: The Odd Couple: Why Apps and the Mobile Web Will Have to Share a Flat for Some Time Yet)
Most downloaded apps are rarely used, if ever
Here are two interesting excerpts regarding mobile apps usage after download. Just because your app has been downloaded doesn't mean anyone is using it past the first week or two, if ever.
One in Five Mobile Apps Is Only Opened Once, Though That's Actually an Improvement (Source:Localytics)
Apps lose more than 50% of users 3 months after peak (Source: Flurry)
Top 3 reasons why SMS is a more effective communication channel than mobile apps
SMS is ubiquitous
SMS is automatically available on 100% of mobile phones globally; there is nothing to install like mobile apps and it doesn't require a smartphone. There are more than 6 billion mobile devices worldwide, used by over 3 billion mobile users. (Source: GSMA)
Enterprises are actively using SMS today
Enterprise adoption and implementation of SMS as a means to engage with customers and employees is on the rise. In fact, a recent Forrester study reported that 86% of surveyed enterprises plan to use SMS in 2014 (Source: Forrester).
SMS open rates are unmatched
Research shows that 95% of all SMS messages are opened within three minutes of receipt, making it the mostly timely and personal way to communicate with customers and employees (Source: EXTexting).
Summary
In summary, before jumping on the mobile app bandwagon, drilldown into the 'record' stats a bit more, understand the needs of your mobile engagement use case and determine your target audience. Is it just the top 5%, or nearly everyone you do business with – externally or internally?
Let us know your experience with SMS and apps with respect to enterprise mobile engagement.